Ralph Macchio Offers Parenting Advice to Ugly Betty Costars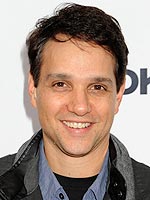 Jennifer Graylock/JPI
Former Karate Kid star Ralph Macchio is all grown up, himself a 48-year-old dad to teenagers Julia, 17, and Daniel, 14. As an experienced parent, he offered up words of wisdom for Ugly Betty costars past and present, Ana Ortiz and Rebecca Romijn, both recent first-time moms. Tops on his list? Stay flexible! "It's the toughest job in the world," he notes before adding,
"Surround your kids with as much love as possible, create the environment for communication and conversation and be flexible. Also, be flexible when they're babies, and you have to sometimes be the strong-arm with the tough love as they get older."
Joking that he's "still looking" for the parenting rule book, Ralph says that his own kids had a curious reaction to his fame. "They'll look back and, if a movie's on television, they'll remind me of how much better I looked back then," he says.
When Daniel was still a child, he stumbled across a bundle of newspaper clippings and magazines from the Karate Kid days.
"He came up, and was like 'Oh my God, Dad was huge, and we missed it,'" Ralph recalls. "He really enjoyed the Ugly Betty run because he was the one who went with me when I auditioned for that, and I'm on for a second season now. He's like, 'See? You should bring me along more often.'"
Father and son are "buddies," Ralph says, enjoying ball games and vacations together. Daniel "wants to be a pilot," and it's a career path Ralph says he supports — nervously! "He took his first flight lesson for his birthday," Ralph explains. "That's a gift we got him."
"I was just praying until he landed. As a parent, you don't necessarily want to tell your kids to be a pilot, but it's his passion — at least at this point. I say, 'Buy the building, own the company and have a jet on the side.'"
Julia, meanwhile, is preparing for college and a possible career in the arts. "She is very close with my wife, which I am thrilled with," Ralph reports. "Mother-daughter closeness is very good, especially launching into those years." He adds,
"It's roots and wings — that's my theory. You give your kids the roots and the foundation, and you have to give your kids wings — the ability to fly. It's tough to do that. You want to keep holding down to the roots. That's my dilemma."
Julia and Daniel are Ralph's children with Phyllis Fierro, his wife of 22 years.
Source: OK!
— Missy