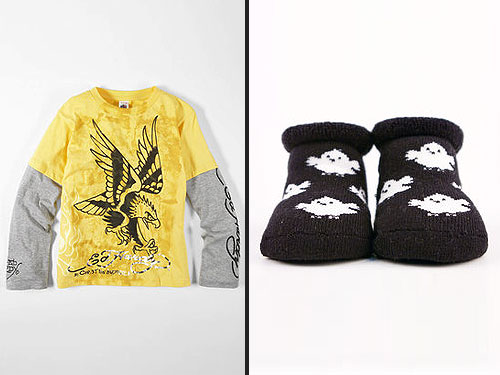 Trumpette Baby/Ed Hardy Kids/Gilt Groupe
They're doing it again! Gilt Groupe's hosting not one, but two children's sales this week. Starting at 12pm EST, you can shop cool, stylish clothing and accessories from Ed Hardy Kids (a street couture line of graphic print tees, hoodies, etc.) and Trumpette Baby (a collection of cute, comfy socks, booties, sweaters and more).
You'll find hip, tattoo inspired double sleeve tees (now $28, originally $44—above left) from Ed Hardy Kids and drool-worthy chick printed booties (now $7, originally $15–above right) by Trumpette Baby. Every piece will have your child stylin' on the playground.
Not yet a member? Sign up here and shop away! The sale ends on Dec. 7.