Biggest Loser's Kristin Steede Expecting a Baby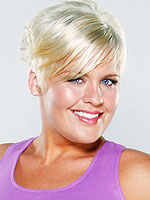 NBC
Former Biggest Loser contestant Kristin Steede, 28, took to her blog on Thursday to announce some big news, indeed: She is expecting her first child! "Do you know what it is like to want something so bad for so long it almost feels as if it's never going to happen?" she asks. "We are going to have a baby!"
Married to husband Nick Steede for five years, Kristin says that the show played a big part in their happy ending. "I truly believe with all of my heart that my weight was the one thing that prevented us from starting our family sooner," she writes.
"I also believe that if it were not for the Biggest Loser I would not be experiencing this miracle today."
It is a miracle that took some getting used to! Kristin admits she took three home pregnancy tests before "it finally sunk in that this was real."
Although the couple hoped to tell family and friends about their baby-on-the-way at Christmas, Kristin — who learned she was expecting the day after Thanksgiving — says she could keep the news a secret just a matter of days. First and foremost on the list was Kristin's mom Cathy, her partner on the seventh season of the hit NBC reality show.
"I had a gift wrapped box in my hand and inside the box was a helium baby balloon that would pop out as soon as she opened it," Kristin writes. "I told her I had an early Christmas present for her."
"She shakes the box a little and starts tearing into it and as soon as she seen it she started screaming, jumping up and down and bawling. It was one [of] the cutest most memorable moments of my life."
Source: KristinSteede.com