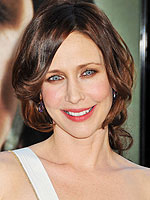 Byron Purvis/AdMedia
The weeks and months postpartum are hardly a time where new moms feel sexy, but Vera Farmiga says that George Clooney makes the impossible seem possible. The 36-year-old actress filmed Up in the Air alongside George shortly after welcoming son Fynn, 10 ½ months, and notes in a new interview that "it takes a woman a good six or seven months to get in the groove after maternity." Her own groove was fast-forwarded by the suave actor, however!
Vera reveals,
"There's just sleepless nights, so lack of sleep takes a toll, so I didn't always feel buttoned up and sexy and confident and comfortable in my skin. But it's pretty effortless with George."
While her sex appeal was questionable going into the project, Vera says other issues — like baby weight — were never in doubt. "When he offered me the job I was in my eight month of pregnancy," she notes. "I was doing the math in my head."
"It seemed do-able. And I've always been someone who can fluctuate weight accordingly to what the character requires … I knew I could handle it."
Fynn is Vera's first child with husband Renn Hawkey. Up in the Air hits theaters Friday.
Source: Toronto Sun
– Missy