Stylish New Carriers and More From Baby K'tan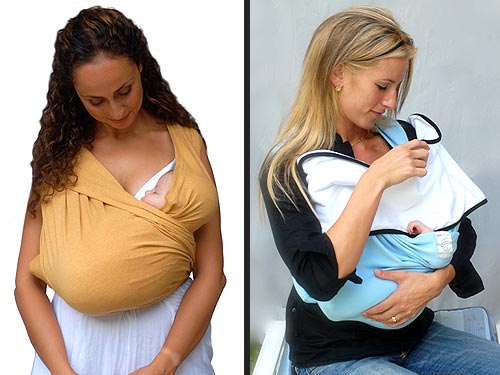 Baby K'tan
Ever since we reviewed their carriers two years ago, we've been big fans of Baby K'tan. Recently, the company has released three cool colors (Soft Sand, Pure Honey in organic cotton and Sage Green) to add to your babywearing collection.
They've also debuted the K'tanCloth ($24.50, above right) — a 3-in-1 nursing cover, burp cloth and blankie. It has a patent-pending design which allows it to attach to baby carriers, as well as, a unique open-pocket design that you can hang over your shoulder to catch messy spit-ups.
Interested? Right now, Baby K'tan is offering a special holiday deal. For $69.99, you can purchase their carrier and cloth set. Get one for yourself or buy it as a gift for a friend
Celeb fans of Baby K'tan include Ellen Pompeo, Laila Ali Conway, Ricky Martin, Jennifer Lopez and Angelina Jolie.