Martina McBride Says Dinnertime Is for Talk, Not Texts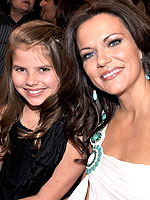 Kevin Winter/Getty
Life with three daughters suits John McBride just fine. So says his wife of 21 years — country songstress Martina McBride — in a new interview with OK! "He loves it," she reveals. "He's adored and taken care of by four girls, so he loves it."
Martina goes on to praise her husband for teaching her patience, something which undoubtedly comes in handy given their estrogen-fueled household!
The family of five "try to eat dinner together every night that we can," Martina says, and there are some rules which are strictly enforced! She elaborates,
"No Tweeting at the table, no texting at the table."
Martina and John are parents to Delaney Katharine, 15 next month, Emma Justine, 11, and Ava Rose Kathleen, 4.
Source: OK!
— Missy