Howie Mandel Says Kids Walk 'a Tightrope'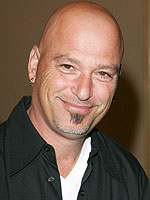 Jen Lowery/Startraks
In his new book Here's The Deal: Don't Touch Me, television personality Howie Mandel opens up about his ongoing battle against obsessive-compulsive disorder and attention-deficit hyperactivity disorder.
The 53-year-old dad-of-three says that his family has also often paid a price, with Howie describing himself as a "hard guy to live with."
Wife Terry and the couple's children Jackie, 25, Alex, 20, and Riley, 17, have "had to cope throughout the years with my idiosyncrasies," Howie reveals. "It's a tightrope." He adds,
"All of us have gone through therapy. I don't think there's anyone alive that doesn't need coping skills when you're married. They have always loved and supported me. But even with all that support and love it's still incredibly hard, sometimes terrifying and dark."
Here's The Deal: Don't Touch Me is available now.
Source: USA Today
— Missy