Cate Blanchett: I Love Raising Boys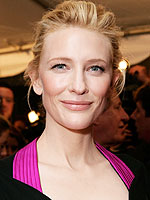 Todd Williamson/WireImage
Cate Blanchett may be a fashion icon on the red carpet and a chameleon when it comes to played such roles such as Queen Elizabeth and Bob Dylan, but in her real life the actress is a mom who loves the daily chore of vacuuming!
"I enjoy vacuuming," Cate told PEOPLE at the Giorgio Armani/Ristorante dinner party in New York City this week in honor of welcoming the Sydney Theatre Company to the Big Apple for their production of A Streetcar Named Desire. "It's a very satisfying noise when you hear all that grit sucked up from the floor and into the machine."
Adds the Oscar winner: "Vacuuming is a big one for me and it's those simple things that keep my life grounded. It can be quite therapeutic!"
As a mother raising three young boys – Dashiell John, 8 this week, Roman Robert, 5 ½, and Ignatius Martin, 19 months – with her playwright husband Andrew Upton, life at home can be a bit rambunctious for star, but she says she doesn't mind being the only lady in the house. "Having boys is great. It's a neat position to be in and I love the high energy that comes along in raising boys. It's fun."
Having recently wrapped a sold-out run of Streetcar both in Sydney and Washington D.C., the actress, 40, is bringing her acclaimed performance as Blanche DuBois to the Brooklyn Academy of Music starting Nov. 27 through Dec. 20. And how does Cate juggle her rigorous work schedule and still have time to help her kids settle in?
"Theater is an evening event so you can't put your kids to bed as often as you like but we seem to find a way to manage," she says. "The kids have been to New York before and they love it. We have lots of friends who've got kids and that helps. But they will come visit me at work.
She adds, "We did a show earlier in the year in Sydney and our little child actually watched the show backstage, which is a really interesting and exciting place with people putting on makeup and costumes and so they love it."
And will her children follow mom and dad in becoming actors?
"My oldest already performs his own version on Hamlet," laughs Cate. "I'm afraid so!"
— Paul Chi