Amy Poehler Advises Working Moms: 'Do Your Best'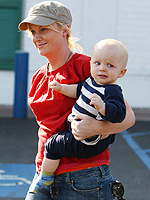 Xposure Photos
Good friends Tina Fey and Amy Poehler have more in common than their status as Saturday Night Live alums.
In a new interview with TV Guide, the 38-year-old Parks and Recreation star says that it is their role as moms — Tina to 4-year-old Alice Zenobia, and Amy to 13-month-old Archibald 'Archie' William Emerson — which keeps them bonded.
"We talked a lot about how we're both working long hours with kids," she shares before joking,
"Our emails and texts are mostly about formula and nannies."
Balancing her hit show with the demands of motherhood can be tough, and to that end Amy says that approaching things "day-to-day" has been beneficial. "You just do your best and try to make it work," she adds.
"Some days are harder than others. I mean, I'm lucky to have a great job and people that help me. I wouldn't be able to do it without them."
Archie is her first child with husband Will Arnett.
Source: TV Guide