Gretchen Wilson On Working Hard, Playing Harder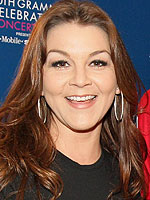 Chris Polk/WireImage
In her latest single titled "Work Hard, Play Harder," Gretchen Wilson let fans catch a glimpse into the way the country crooner chooses to live her life: logging long hours at the studio, but even longer hours at home with daughter Grace Frances!
"I love to be able to work my butt off in the studio and then go out there and hit four nights in a row on tour, then come back here again to the record company and make four or five decisions," she tells The Boot.
Fortunately, days spent away from her family are followed by rest and relaxation at home with Grace. "Then I want to go home and play tickle on the couch with my little girl," Gretchen explains, adding that she closes herself off to the world to focus on her daughter.
"When I get to that time, the phone is off, the door is closed and locked, and I'll be back with you at 8:00 a.m."
Her decision to place family first came after the 36-year-old's realization that, without her loved ones to celebrate her career with, her stellar success was meaningless. "I started thinking, 'What the hell am I doing all this for if it's not for these moments?'" she recalls.
After all, notes the proud mama, her days with Grace are quickly dwindling!
"I'm gonna turn around real quick and my little 8-year-old is gonna be 14 and she's gonna be coming in from school, slamming the door with the 'Keep Out' sign on it, going, 'Hey! I don't want no part of you.'"
And while Gretchen jokes that when those days do come she may finally be privy to "a love life," for now, her main squeeze remains Grace. "These are my few years that I'm gonna have her completely to myself, so my playing harder right now is probably a little different than what people think," she notes.
That said, don't underestimate this "Redneck Woman!"
"But don't get me wrong, I can still get down with the best of 'em, but I just don't do it as often as I used to!"
Her dedication to her daughter is one Gretchen hopes Grace will one day appreciate. "I hope with all my heart that when she grows up, she'll — and this is such a 'mom' thing to say — but that when she grows up, she'll look back and not remember the times when I was working and not there…but still she'll remember how hard her mom worked to provide and to keep everything going and to keep everyone happy," says Gretchen.
Grace is Gretchen's daughter from a previous relationship with Mike Penner.
Source: The Boot
— Anya