Review: Britax Chaperone Travel System (A Safe High-Style Ride!)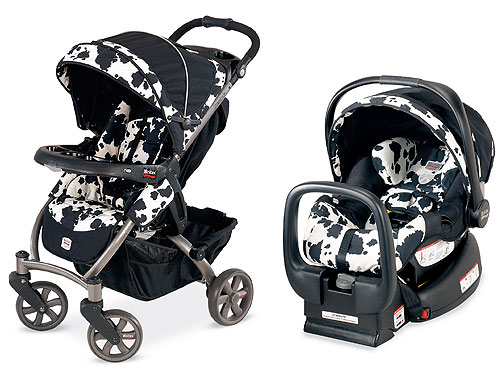 Britax Chaperone Travel System
For most parents, the name Britax is synonymous with safety. And their latest addition to the car seat market — the Chaperone Infant Carrier ($230) — carries on that tradition.
Since the discontinued Britax Companion infant carseat was a popular pick with expectant moms, we're thrilled to report that the Chaperone features everything the Companion did and more. Even better news? It's available as a travel system with Britax's new Chaperone Stroller ($300), which we also tested with great results.
Click below to read our full review.
Infant Car Seat
Things We Like:
The safety features are impressive, to say the least. Designed for babies weighing 4 to 30 lbs and up to 32-inches tall, the Chaperone is one of just two car seats on the market offering the anti-rebound bar which stabilizes the car seat during a collision by reducing rotation in a front-end crash and preventing a baby's head from impacting the back of the seat in a rear-end crash.
It also comes with adjustable EPS foam-lined wings — part of Britax's standard True Side impact Protection. They help distribute crash forces while also helping to shield baby's face from intrusions like shattered glass. And a built-in lock-off on the base allow you to lock your vehicle seat belt in place, just as it would lock in the event of a crash.
It also comes with a padded foam insert that gives newborns — even preemies — some added cushioning (and a little boost) for a more snug fit. You can safely use the insert with babies weighing up to 11 pounds.
At 10 pounds, the car seat is relatively easy install. The ergonomic handle is both easy to grasp and balances well in the crook of your arm. Plus, the straps are sturdy and strong, the no re-thread harness adjustment allows you to switch up your harness height without disassembling the unit and you can alter baby's overall height and angle by utilizing a convenient knob located on the base.
It's available in muted Savannah, Red Mill and Moonstone, as well as our personal favorite, Cowmooflage (above).
Things We Don't Like:
But at $230 (more than most parents can afford), all those great safety features come at a price. And while the fabric is high quality and soft enough for a newborn, it's not machine-washable which means more work in the long run.
CBB rating:
If you like to spare no expense when it comes to safety — or if you're not shy about asking for big-ticket items on your registry — it's hard to find a better infant car seat. We'd like to see the anti-rebound bar become standard on all infant car seats, but until it does, the Chaperone stands head and shoulders above the rest.
Stroller
Things We Like:
Overall, it took less than five minutes to assemble. The hardest part was removing the caster protectors on the wheels. Once we pried them off, the wheels easily clicked into place. Sturdy and full-size, it's easy to steer with just one hand. It also rolls smoothly and quietly. The one pedal, one foot brake is easy to engage and features color coding that lets you know whether you're safely parked or not. Recommended for children weighing up to 55 lbs., it fit our 50 lb. son quite comfortably.
As far as storage, the basket is enormous. It flips up and down for easy access to your bags — which comes in quite handy if the seat is fully reclined to accommodate a sleeping baby. It's also easy to fold down. Simply raise the snack tray and pull up on the seat's lift release strap until the stroller is completely folded and you hear the chassis lock into place. The stroller stands while folded. Plus, you can also tote it with the release strap for easy storage in your car. When you're ready to unfold, simply unlock the chassis, pull up on the handle, give the stroller a good shake and you're on your way.
The stroller earns points for bypassing the bumper bar and instead adding a snack tray. This means getting your baby in and out of the stroller is easy — just lift up the snack tray.
Things We Don't Like:
Although, we love the snack tray and how easy it is to lift. It also falls under this category for two reasons: 1) lifting if over your child's head only works while they are small enough to fit under the tray and 2) if it is actually used to hold snacks, unless your baby is incredibly neat, you're likely going to make a mess when the tray is lifted.
Also, while the handle has three positions, it's not telescopic.
CBB rating:
Britax might be known for its superior car seats, but the Chaperone stroller is every bit as impressive. It offers size, ease-of-use and sturdy construction. That's why we recommend going for the whole travel system — combining the Chaperone stroller and car seat is unquestionably the way to go.
As an added bonus, if you purchase the complete Chaperone travel system before Dec. 31, 2009, you are eligible for a $100 mail-in rebate from Britax. Click here for details.
— Missy