Cinch Seat: A Stylish, Yet Functional Booster Seat!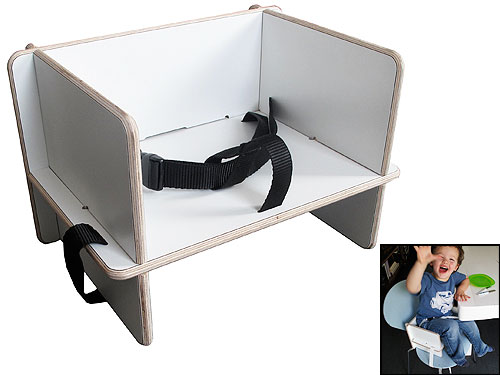 Cinch Seat
Once your child graduates from a high chair to a big chair, there's that tricky in-between stage where they still need a boost.
London-based designer Adam Kaliski — who studied sculpture at the Royal College of Art — has created a modern-looking booster chair that you and your little one will love. The Cinch Seat (approximately $95 for white) is functional, yet chic and comes in a range of colors to complement any decor.
Made with thick laminated birch plywood, it comes with an adjustable child harness, removable straps to attach it to an adult chair and a cotton canvas storage bag for easy transport.
There are two seat heights depending on the size of your baby/toddler — it's recommended for babies who are sitting up to children aged 4. Simple to assemble and take apart, it also stores away easily.
Want one? Contact the designer to order– he will ship to the US. Also, prices for other colors are available upon request.