CBB Chats With Gena Lee Nolin: Life Is 'Crazy Bliss'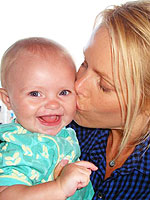 Courtesy Gena Lee Nolin for use on CBB
Gena Lee Nolin is enjoying the "crazy bliss" that is her life right now. Mom to Spencer, 12, Hudson Lee, 3 ½, and Stella Monroe, 1 on Dec. 3, the former Baywatch star — who's married to retired NHL player Cale Hulse — definitely has her hands full.
With two television shows and a book about her battle with postpartum depression in the works, Nolin is gearing up for the holidays, and her daughter's big first birthday! She recently spoke to CBB about her family's favorite holiday traditions, her sons' strong bond and more.
Click below for the interview!

CBB: How's life with Stella?
Gena Lee Nolin: Oh it's awesome. I can't believe it's already been a year. She has been adventurous, and there hasn't been a dull moment since we brought her home.
She's 100 times different than my two boys, which I was sort of ready for, but I didn't realize they'd be that different. Like, the boys would eat and sleep and were just really easy, whereas she's a true little lady! She wants attention, she had colic for five months — but it's been wonderful. Now she's on a great schedule, and she's fit in so nicely to the family.
How are you planning to celebrate her first birthday on December 3?
I've always been huge into first birthday parties. But this year, we're going to keep it very intimate, have family and close friends over, and keep it simple. And I think the reason is because I feel like it is a celebration, but the first birthday is more for the parents than it is for the child — the child has absolutely no idea what's going on. It's going to be more special, and more meaningful.
For the first two, I had bartenders for the adults, DJs going, bouncies, and the kids were just learning how to walk! So I think we'll do some cupcakes, and just have grandma and grandpa celebrate with her siblings.
You know that as a girl, she'll want the big parties and the princess theme at age 3 and 4, and I can't wait for that. I think I'll be more excited than her about those!
How are your sons adjusting to her?
The boys adore her! They're very protective, and it's cute, especially with Hudson because they're closer in age. They're in the tub together a lot, so he'll try to read her books, but he can't read, so it's pretty hilarious. He's trying to be very much the big brother.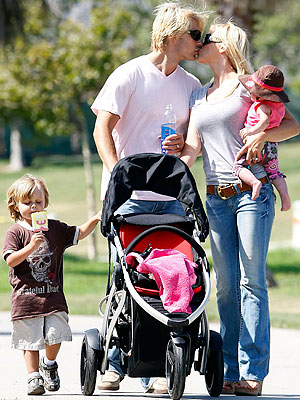 Nathanael Jones/Pacific Coast News
Did you plan for the spread in ages?
I never had a vision as to how things were going to go. I was married 10 years, and had Spence, but he was very much planned.
Then I was working so much, and it didn't work out that we had another. I was quite content, I was a single mom and doing well with Spence, who's been a healthy beautiful boy.
I've obviously now since remarried, and I did want the two — I knew that I would have more children. I wanted them somewhat close together, just because my siblings and I are.
There's three-and-half, four years between us, which is perfect. You have a lot in common still, and it's nice to have that closeness.
While Spence is 9 years older than Hudson, they still have a really special relationship, and I think as special as it is now, when they're adults, it'll be amazing to see that unfold.
Spencer is protective — we've seen it come out on playground, when a kid will come to Hudson and push him out of the way, or something silly, and Spence will step in and say "My little brother was here first!"
As much as I see it now, it's a certain kind of relationship, because Spence is so much older. They're not buddy-buddy, but when they get older, it'll be pretty special.
Do you have plans for any more children?
I am done with kids! So done! Doing this interview right now, I have a little fight that I can hear on one side of the house, I hear Stella crying in another room, and everything's fine, but it's crazy! It's crazy bliss, I should say.
What are you doing for the holidays?
My tradition, since I was a kid, was to put the tree up mid-November so we could really enjoy it at Thanksgiving. We'd have people over, too.
Now, my tradition as an adult is to have an open-door policy on Thanksgiving. I always host, and I welcome absolutely anyone into my home. I think it's really special. If people are going through hard times, or not getting along well with their family, they flock to my house. And I'll have my tree up!
Since I was tiny, on Christmas Eve, we'd go to church, and when we'd get back all the presents would be under the tree. Our parents said that Santa had come — it's a Scandinavian tradition. We'd have dinner, open our gifts, then have more gifts the next day, since the "special elves" would leave two gifts the next morning.
So it's much different than the norm, but I just love it. I introduced it to my husband, who was a Christmas morning type, and that was it — he loves it! So we'll go to church, have an amazing dinner, and it's very family, very warm.
Does Spence still believe in Santa?
I can't believe I've kept it going for this long, but just this last year he was like, "Mom come on, there's no way there's one man who gets to every single child on Earth in a night." So I sat him down and said, "OK, listen, when you have a child, you'll get a letter from Santa. You will, on his behalf, get a few gifts for your children, and you'll basically shop for him." And he totally bought it! Eventually though, he'll think I'm crazy.
You were featured in PEOPLE for shedding the post-baby pounds. Any tips?
What I've noticed, and since I've had three, is that each pregnancy and postpartum period is so different. With my first, I gained 40 pounds, in the second I gained 35 and with Stella I gained 25. My thing is to get most of your weight off, or at least get into good eating habits and exercise routinely, the sooner the better.
I found with Hudson, I'd say, "Oh I'll do it, eventually I'll get it off." Then a year went by, he was 2, and I still hadn't gotten it off — and was bigger than ever before. My tip is to get moving, and get healthy as soon you can. Get into a routine that works for you.
More importantly, don't be hard on yourself! You just had a baby. It took nine months to get there, and I believe it takes nine months to get back. For me, I really watched what I ate, and exercised as much as I could with three kids.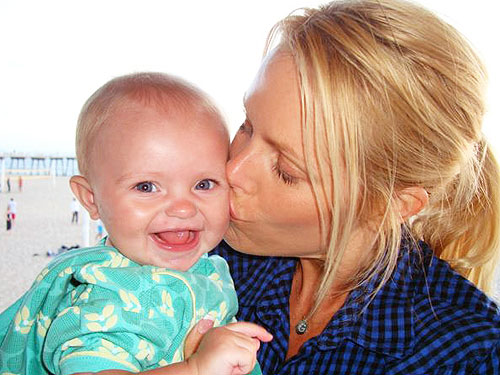 Courtesy Gena Lee Nolin for use on CBB
What advice do you have for women battling postpartum depression, as you did? How is your book on the topic coming along?
The book is great. As hard as it is for me to do, I'm so compelled to write this because of what I went through — I went through it with all three. And I think that people sort of stereotype me as the blonde Baywatch girl, who's always in a swimsuit, so I think to tell my story, that I got up to 175 lbs., was so depressed I couldn't get out of bed, will show that life wasn't always good for me. Reliving these things has been a bit hard, but it's going to be a great read.
With my first, I didn't really know what I was going through. And looking back, I don't know how I got through it. I had my moments for sure. I went to my OB, and said, "I need help." I was crying constantly, so I gave him my symptoms, went to a psychologist, sat down to talk, and got the medications I needed.
I believe that every individual has their own way of doing things. Something that works for me might not work for someone else. But be open-minded — some people do need medication, and that's OK. You can have this tug of war, but in the end, if you're healthy and it works for you, then that's what you have to do.
The book might come out before summer 2010. But it's been a funny learning process — books are not a fast thing! Your editing team basically puts it on the market when they feel the time is right.
What's next in your career?
Right now I have two shows in development, and I'm so excited about both of them! The concepts are out of this world. Both are mommy-type shows. One is more of a talk show, the other is more of an on-the-field, helping moms in every way program. It's awesome. I can't say much more, but I'm very excited.