Caught Caring: The Jolie-Pitts, Asprey and Education Partnership for Children of Conflict
When it comes to philanthropic celebrities, it's hard to top Angelina Jolie and Brad Pitt. The couple — parents to six children — donated a staggering $6 million to charity in 2008 alone, according to reports, and they show no signs of slowing down. Recently they designed a serpent-inspired line of jewelery with Asprey, to benefit Education Partnership for Children of Conflict (EPCC). Co-founded by Angelina herself, the organization  raises awareness and funds to educate child victims of war, conflict and natural disasters.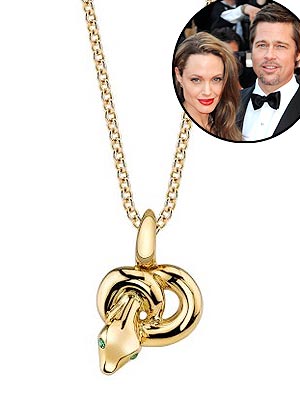 Asprey/Landov
Known as the Protector Collection, the designs were inspired by Angelina's reflection on the snake as an "iconic guardian, a cultural symbol of family protection" according to Asprey.
Each limited edition piece — made of fine jewels and silver —  was created by hand at the jeweler's flagship store in London.
Featuring rings, pendants, bangles, baby spoons and more, the Protector Collection is available now at Asprey locations across the globe, with prices starting at $575.
All net proceeds will be donated to the EPCC, which Angelina started with Gene Sperling, Director of the Center for Universal Education at the Council on Foreign Relations, in 2006.
The duo recognized that all too often children living in war-torn or otherwise chaotic environments were seeing their educational needs sacrificed, as funding was funneled to other sectors of government.
With a stated goal of uniting organizations, corporations and foundations to reverse that trend, the dream behind EPCC became a reality at the Clinton Global Initiative in 2007. It was there that $148 million was pledged to educate 350,000 children living in conflict, and to improve schooling for 700,000 more children.
"These are the children who most need a safe place to learn, a place to heal, a place to learn reconciliation, a place to build a better future and a place — to just be children," says Angelina, "yet the education for these children is often forgotten." She adds,
"Every child has a right to an education. And conflict is not an excuse for us to ignore that right."
To find out how you can help, click here.
Brad and Angelina are parents to Maddox Chivan, 8, Pax Thien, 6, Zahara Marley, 4 ½, Shiloh Nouvel, 3 ½, and 16-month-old twins Knox Léon and Vivienne Marcheline.
— Missy