Ashley Jensen Calls Childbirth 'A Great Leveler'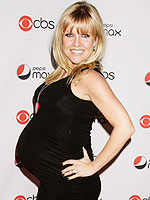 Francis Specker/Landov
Motherhood has given Ashley Jensen "a real respect for womankind," the 40-year-old actress tells the Independent in her first interview since welcoming son Francis 'Frankie' Jonathan, 5 weeks. "Giving birth is amazing, and such a great leveler." She elaborates,
"It doesn't matter who you are — whether you're Mrs. Beverly Hills with your Botox, or someone living in a caravan in Idaho. You both go through that."
Likewise, most moms will find themselves bleary-eyed and shell-shocked by the rigors of caring for a newborn and Ashley has been no exception. Conceding that she's "stumbling from day-to-day," Ashley — who is breastfeeding — singles out "getting to grips with feeding and not sleeping" as the hardest parts of motherhood thus far.
Setting up a routine has been beneficial, however. "It's very all-consuming," she notes. "I had to feed him before I came out, which is why I was a little bit late, even though he wasn't really due for a feed." She candidly adds,
"And now I'm worried about whether my breasts are going to start lactating! You can't be away from him for too long."
Already back on the set of Accidentally on Purpose, her new CBS sitcom, Ashley says that the transition to working motherhood was made easier by the network and by her costar Jenna Elfman. "I've got a dressing room so I can take my little boy in with me," Ashley points out. "And it's great on set because Jenna is pregnant too. She's about to have her second child in March."
While Jenna's pregnancy was written into the show, Ashley — who worked up until the week before Frankie's birth — says hers was not. "It was a case of hiding behind a series of giant handbags and flower arrangements," she says.
When asked whether she and husband Terence Beesley have considered the possibility of Frankie growing up with an American accent, Ashley jokes: "That is a worry, let's face it." She goes on to note, however, that baby boy will "probably have a mixed-up accent anyway," citing her Scottish and Terence's English heritage. The observation leads her to reveal,
"One of the biggest changes for me has been that I have started thinking about the future more. You have to. If we do stay in LA, we were thinking that perhaps he could go to the French School, which is a great school with a European influence. But then we thought, 'Hang on, he's only four weeks old!'"
Source: Independent
— Missy