Matt Damon on the Biggest Realization of Fatherhood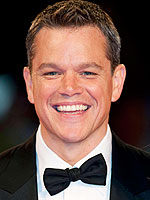 Alpha/Landov
While everyone loves the idea of celebrity dads Ben Affleck and Matt Damon enjoying an occasional playdate with their daughters, Matt says that it is yet to happen. "We're on different coasts," he pointed out recently to OK!
Chatting from the premiere for the History Channel's new documentary The People Speak, Matt said that his family — who recently relocated to New York City — would be heading back to Florida for the holidays. He added that he hoped his political activism would someday rub off on daughters Alexia, 11, Isabella, 3, and Gia Zavala, 15 months.
"The tagline is that Democracy is not a spectator sport," he notes.
"That's what I would want, more than anything, my kids to take away. This country is about participation, activism, understanding the history of the country, understanding your place in that history, being involved and being a productive part of the American experience."
The 39-year-old actor credits "good communication" for his happy marriage to wife Luciana, and says that parenthood has been eye-opening as well. He jokes,
"I never knew I could function this well with no sleep. That was a realization."
Ben is dad to Violet Anne, turning 4 next week, and Seraphina Rose Elizabeth, 10 months, with wife Jennifer Garner.
Source: OK!