Alison Sweeney Seeks Clarity Through Charity for Two Children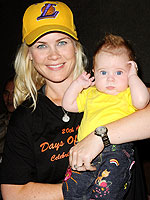 Jill Johnson/JPI
While hosting a Winter Wonderland-themed charity event for Feeding America at her California home recently, Alison Sweeney said she hoped son Benjamin Edward, 4 ½, and daughter Megan Hope, 10 months, would someday learn from her charitable example.
"I look forward to volunteering at a food bank on Thanksgiving, and I plan to introduce my children to the idea of giving back as soon as they're ready," the 33-year-old actress tells BabyCenter.
"It certainly helps me keep my problems in perspective. I want that same clarity for my children."
Together with husband David Sanov, Alison said she's also teaching the kids that animals are just as deserving of their help. "Both of our dogs come from shelters, and we explained to Ben how we wanted to take care of them and welcome them into our family," she explains.
When asked how she maintains such a balanced childhood for Ben and Megan given their mom's fame, Alison admits"that's a tough one." She adds,
"I don't think anyone's figured it out 100 percent. You just do the best you can. Being aware of the advantages you have and helping your children understand their good fortune is probably half the battle. Also, setting a good example. Making sure you, as parents, are being good role models is key."
Alison says that a good place to start is having your child volunteer in the community. "It's something you can do together, and teaches them the importance of giving back," she notes. "I remember when I first realized some kids didn't get presents on Christmas. It's a scary thought as a kid, but doing something proactive such as gathering toys for orphanages can really bring you together as a family."
Click below to read about Alison's Thanksgiving plans.
Family time is definitely on the agenda as Thanksgiving approaches, and Alison says she'll spend the day helping her own mom whip up a feast. "My mom is a great cook," she raves. "It's so fun to see everyone. To me the holidays are all about celebrating together."
Working side-by-side in the kitchen, Ben and Megan will no doubt be a topic of conversation for mother and daughter, but Alison says the best piece of advice she received about parenting was to parent Ben as if he was not her first child.
"When you're a new parent think you have to jump at every squeak," she notes. "But if you imagine that you already have a kid, you realize you can't just drop that child to come running." She adds,
"As you deal with your new infant, you'll come to appreciate the extra breathing room that comes from considering what you'd have to do if you had an older child too!"
When asked whether she now says things she never imagined she'd say, Alison admits that it happens "a lot," revealing,
"I hated the saying 'You'll understand when you're older.' I never thought I'd say that — but I have, and probably will again."
Source: BabyCenter
— Missy