Rachel Weisz Dishes on 'Delicious' Motherhood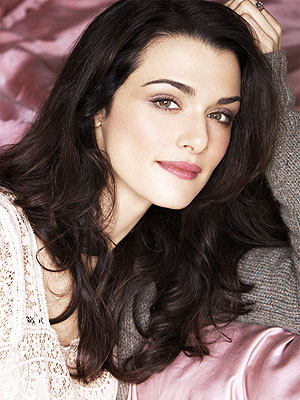 Courtesy Redbook
In the December issue of Redbook, Rachel Weisz opens up extensively about son Henry Chance, 3, and fiancé Darren Aronofsky.
Although the 39-year-old actress calls motherhood "delicious," describes Henry as "scrumptious," and proclaims she's "never been happier," she is refreshingly candid about the broad spectrum of emotions that follow the birth of a baby.
"I think one of the things that moms aren't allowed to talk about enough to one another … is the times when you're pulling your hair out at home with the kids," she says.
"Those moments when everything is crashing in and you feel like you're going to scream."
Rachel suggests that moms "get together in regular groups" to talk openly about their feelings of frustration, without fear of being judged.
"It doesn't make us less good or less human, just real," she adds.
"I think there is sometimes too much pressure on us to be perfect moms, to be empathetic and loving all the time…Every woman needs a good girlfriend to be able to turn to and say, 'I just can't deal with it all today.'"
"Because even though children are the most precious things in the world, they are also set to test us. I think women are already stretched and pressured to be perfect, and it kind of drives me crazy."
With that said, Rachel admits that her favorite moments of the day are still those spent with Henry.
On the day of the interview, mother and son enjoyed a pizza lunch together.
"We were sitting there and he said, 'Mum, today I saw two people that were married,'" Rachel recalls. "And I said, 'How did you know they were married?' And he said, 'Because the man had a hat on that was tied underneath his chin.'"
Noting that kids "come up with the most lovely and crazy things," Rachel says that "it is so sweet and such a joy to watch them as they figure out the world."
Click below to read about how Rachel unwinds, and why she makes time alone with Darren a priority.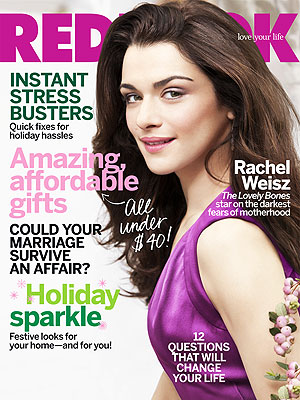 Courtesy Redbook
Having a child has streamlined Rachel's own approach to managing that world, one which is even more busy than usual as she appears in the London stage version of A Streetcar Named Desire and promotes her upcoming film The Lovely Bones.
"I find I can get a lot more done since I've had Henry," she reveals.
"Suddenly, in 45 minutes, you can get twice as much done as you once did…I've become a lot more organized."
She adds,
"And I'm a much happier person since I've had Henry, and much more balanced. I feel I have an ultimate purpose beyond anything else in my life."
An admitted "worrier," Rachel says she "thinks about things a lot" and will often talk through problems to set her mind at ease.
"Men don't seem to need to do that like women do," she notes. "I don't know what men do with all of that [emotional stuff]."
To that end, Rachel says that when she is feeling overwhelmed she turns to yoga, a massage, a hot bath, or her girlfriends for help.
"My best friend who I grew up with in London is still here, and she has two sons," Rachel notes. "To just be able to sit with her and laugh and catch up or watch my son play with her sons is the most beautiful experience to me. She and I have so much history together; we have our own shorthand, so we can get to the heart of everything in about one minute."
Taking time out for herself is important to Rachel, and it's something for which she makes no apologies.
"Some might think it's self-indulgent, but it's very important because once you've figured out how to chill, it makes you a better mom and a better wife."
Taking time out for her relationship with Darren, on the other hand, is something Rachel jokingly describes as "a work in progress." The couple recently spent a weekend alone in Maine and the separation from their son was tough. "All we did was talk about Henry," Rachel admits. "I cried about how much I loved and missed him."
By the end of the trip, however, Rachel says she could see why it was important to get time away."It was great for us to be away together like that, and I was the one who suggested it," she explains. "Even though it's always hard to get away, I think it's really important to do that as a parent."
"You get perspective on things when you're away from your child, and in a way, your love for them becomes even deeper. It's also important for your partner, for him to know he's still a priority. Children need to know that Mommy and Daddy are still in love with each other, and that everything is alive and well in that department."
Whenever possible the couple travel — and make decisions — together as a family, based on "what is best for all of us," Rachel says. Case in point? While in Malta last year working on her upcoming film Agora, Henry wasn't yet in preschool, so he traveled with mom; Darren, by contrast, had just finished shooting The Wrestler and the family-of-three reunited overseas.
"He brought his editor to Malta, edited the film while I was working, and helped look after Henry," Rachel recalls. "We all met every night for dinner and then put Henry to bed together."
"We figured it out, and it took some planning, but so far we've been able to figure out the logistics of being together as a family. But definitely, the priorities change."
In The Lovely Bones, Rachel portrays a mom grieving the loss of her murdered daughter. The subject matter was often dark, but Rachel says she didn't bring any baggage home at the end of the day.
"I think the only way you can successfully be a mum and an actress is by not carrying around the burden of the character," she explains. "Between the time the director says 'Action' and 'Cut,' it's all true for me. But when I stop saying the lines, it's not true anymore." Motherhood has had an undeniable affect on how she approaches her job, however.
"It affects just about everything. I mean, your heart opens up so much more when you're a mum, don't you think? If there was any protection there, it's gone….I think being a mum and having a child has completely grounded me. It's amazing."
It's changed her in other ways, as well. Rachel says that Henry has taught her "to sing and joke more," made her more patient, deepened her love for Darren — and even made her smarter!
To that end, Rachel jokes that Henry has "reinforced" for her how little she knows about science. "He recently asked me how a battery works, and I had absolutely no idea," she admits. "I usually say, 'Why don't you ask your dad?'"
Acutely aware of how quickly time passes, Rachel adds,
"I love to cuddle him and kiss him, and I'm obsessed with his smell. I love to bury my face in his neck and just hold him and smell how delicious he is. I know in a few years he's going to say, 'Mommy, stop kissing me!' So I'm making the most of it now."
The Lovely Bones hits theaters December 11th.
Source: Redbook, December issue
— Missy