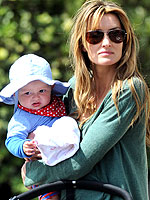 Whittle/Kaminski/Splash News Online
In the cover story for the December issue of the UK's Psychologies magazine, Natascha McElhone says that memories of her late husband Martin Kelly are never far, for so much of him lives on in the couple's three sons Theodore, 9, Otis, 6 ½,  and Rex, 13 months. "Their brains are very much like Martin's, thank God, because he had an extraordinary brain," she muses.
Just like Martin, Theo is "a little chess fiend" who has "a fascination for science and how things work," Natascha says. Otis and Rex, meanwhile, take after their dad in other ways.
"[Otis] has a lust for life, a contagious energy that was very much Martin's," the 37-year-old actress says, "and the baby…I think he looks like Martin, but I'm probably projecting wildly." She adds,
"Martin is such a part of me now, and me a part of him. For example, I could never do an impersonation of him, whereas I could impersonate anyone else outside my family. It's only when someone comes in from outside and says, 'Oh God, he looked just like Martin when he did that.' I see them every day, so it's hard for me to be objective."
As she forges ahead with single motherhood, Natascha feels good about the example she's setting for her sons. "I'm happy their experiences of women so far are that they're active and competent," she explains. "I'm not saying I am…but the women I surround them with are all people like that."
The Californication star is also quick to point out that the spotlight is firmly fixed on Theo, Otis and Rex. "I'm not the focus," she says. "I'm the frame and they're the picture and that's how it should be."
"The movie we're watching is their life. Kids take parents for granted and I want them to take me for granted. I'm happy to be their wallpaper for as long as they want."
Click below to read Natascha's thoughts on raising boys.
Although she is the only female presence in their home, Natascha works hard to stay accessible. "What I can give my boys is a sense that I'm not a mystery to them," she says — even though much of what entertains the boys remains a mystery to her!
"When I had my first son, I just couldn't understand the obsession with wheels," she admits. "I mean, what were little boys obsessed with before the wheel was invented?"
"Horses' hooves, probably; something to do with speed, velocity, motion. It's a very male dynamic. And there it is, right from the word go."
Even Rex, still just a baby, will play with a toy car pushed across the room "but you do the same to my god-daughter, it goes right past her," Natascha notes. "She observes the movement but doesn't have to become part of it. Little girls sit for hours, drawing and talking, whereas boys bounce off the walls."
They also, of course, are capable of great affection; To that end, Natascha reveals that although the boys "whack one another," there are plenty of tender moments as well. She adds,
"Theo loves Rex, he's obsessed with him, as is Otis. He won't get out of the car in the morning until he's given Rex a kiss."
Natascha and Martin were married ten years when he died of a heart attack in 2008.
Source: Psychologies, December issue
– Missy