Hugh Grant On Future Fatherhood: 'I Haven't Given Up Hope'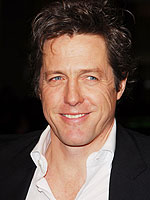 Jane West/INF
Next September will be a big month for Hugh Grant: the actor will celebrate his 50th birthday. And although he has managed to rack up a laundry list of accomplishments over the years, Hugh now has his sight on something new — children!
"Ten years ago, I wouldn't have thought about having children at all," he admits to PARADE.
However, the proud uncle of "so many" nieces, nephews, and godchildren — including Elizabeth Hurley's son Damian — Hugh is growing fond of the idea of a family for himself. "Yes, yes, yes. I haven't given up hope," he confesses.
That said, his desire to have kids comes with a set of terms! "That's on the basis that I can leave after 10 minutes," he jokes.
"I don't know what it would be like 24 hours a day. I think I'd have a lot of nannies."
With the thought of a family on the horizon, Hugh is already forming his own opinions when it comes to raising children. "I see a lot of children over-parented now, by my standards," he notes.
"Over-adored. Over-spoiled. I quite like the children left alone to get on with it."
His approach to parenting leaves Hugh believing he will be a top-notch father. "Yes, I do rather," he explains. "I find I'm not as bad with children as I used to be."
Source: PARADE
— Anya