Robin Thicke: Baby-on-the-Way Will Be a 'Good Singer'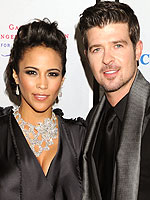 Demis Maryannakis / Splash News Online
Speaking from Boston on Saturday at the High Hopes Gala to benefit diabetes research, singer Robin Thicke revealed that should he experience a flight delay on the way home, he would have plenty of reading material to help pass the time — namely, What to Expect When You're Expecting.
"I have the book," he told the Boston Herald. "I haven't cracked it yet, but it's sitting in my travel bag."
With wife Paula Patton due to deliver the couple's first child in late spring, there is a world of unknown awaiting the couple, but Robin says that some things are easy to predict.
"I know it'll be a good singer. There's too much musical DNA for it not to be."
Robin, 32, and Paula, 33, were married in 2005.
Source: Boston Herald
— Missy