Amanda Peet on Motherhood: 'Put On Your Own Oxygen Mask' First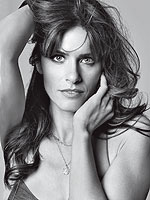 Courtesy Self
Forget the parenting books. When it comes to advice on raising Frances 'Frankie' Pen, 2 ½, Amanda Peet seeks her words of wisdom from none other than airline flight attendants. "'You have to put on your own oxygen mask before you put on others,'" the December cover girl for Self magazine says.
The concept may look good on paper, but Amanda admits following through with the philosophy is often easier said than done. "It's a good metaphor for parenting, but it's really hard to do sometimes," she notes. "A lot of women feel that if they're exerting energy in different areas of their life…it's automatically detrimental to the child." Not the case, continues the actress.
"I think the exact opposite is true. Children need to have a role model who is able to identify her passions and go after them."
To that end, Amanda is a strong believer in female relationships and cherishes her time spent with her girlfriends. In turn, the 2012 star hopes Frankie will take note and nurture her own friendships later in life. "Sometimes I feel guilty about making time for my friends, but that's a good model for Frankie, and it's poignant to me because she's a girl," she explains.
"It's important for her to know that when I leave her, it's to go see someone who needs me. That I have to stay on the phone right at that moment because I'm checking with a friend who's opening a play or something like that."
Although her friends play a large role in her life, Amanda ensures time spent with her husband David Benioff and Frankie remain high on her list of priorities. That said, quality couple time since the birth of their daughter often means a stay-at-home date night! "We put Frankie down, then order in and watch Mad Men or Nurse Jackie," she laughs.
Her close-knit group that she has surrounded herself with also serves as her own personal soundboard when it comes to making decisions, something Amanda admits she cannot do alone! "I have moments where I'm incredibly spontaneous and incredibly certain about a route we should be taking," she shares, "and other times, I'm completely paralyzed and I call my sister and mom and I talk to one of [Frankie's] teachers and to my girlfriends."
Should her plans go awry or her choices turn out to be less than perfect, Amanda insists on dusting herself off and trying again — a lesson she hopes to instill in her daughter. "I think it's important for her to know that you can fail and then recover and that — it's so corny — but that failure is important," she says. "It's part of the thing. You cannot escape it. There's nothing you can do. There's no way you can control everything that much."
Click below for Amanda's thoughts on keeping fit.

Juggling motherhood and her career has left little time for much else — including fitness, much to the delight of Amanda! "I have a lot of fantasies about being a better exerciser, but they haven't come true yet," she jokes. Hopeful that Frankie will adopt the same approach and be "naturally healthy without having to count and assess and weigh constantly," Amanda plans to teach her child the true meaning of beauty.
"I certainly don't want her to be obsessed with exercise or diet or calories or body image. I'm dying for her mental time to be spent looking outward, even if that sounds corny."
Source: Self; December issue
— Anya