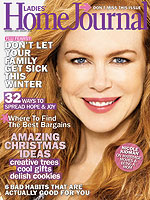 Courtesy Ladies' Home Journal
Home is where the heart is and for Nicole Kidman, it has led her to establish her roots alongside her husband Keith Urban and their 16-month-old daughter Sunday Rose in Nashville, Tenn. While the small town feel and country living is a far cry from her days in Hollywood, the actress has come to prefer it that way.
"I love living here," she tells the December issue of Ladies' Home Journal. "I feel protected here, especially now that I have the baby."
Allowing country crooner Keith to step into the spotlight hasn't been an issue for Nicole, who admits watching him shine when it comes to his successful albums and tours is "much bigger than what I'm doing right now." Often joining him on the road — the couple insist they are never apart for more than four days at a time — both Nicole and Sunday are privy to Keith's stellar voice each morning!
"I hum a little. When your husband's a huge singer, the last thing you do is sing with him."
That isn't to say Nicole's career has taken a complete backseat to her family. Only weeks after giving birth to Sunday, Nicole packed up her daughter and headed to Italy to film her latest movie Nine. Having baby girl on set proved to be a good distraction! "Kate [Hudson] had her son there," Nicole recalls, "and Penélope [Cruz] and Fergie were like, 'I can't wait to have a baby.'"
Settling into life with an infant on set was nothing short of a new experience for all! Come time for costume fittings Nicole — who was nursing at the time — found herself with a few newly acquired curves. "They're not very big, my boobs, so they just became normal size," she notes.
"I loved it! When you've had a slightly androgynous body your whole life, having breasts is a nice feeling."
And while she may make light of her experience, having the chance to carry a child isn't something Nicole takes for granted. "I loved bringing life into the world," she raves. "To be completely responsible for this baby growing inside me. I'm grateful for that experience."
Her trip to Italy was only the beginning for Keith and Nicole's daughter. The glitz and glamour that accompanies her parents' careers has certainly left a lasting impression on Sunday, who has logged thousands of air miles with the pair. "Sunday's third word was 'wow' and I say that word a lot," says the Australian native who, in addition to a farm in Nashville, has property — and a handful of alpacas — in her homeland.
"I hope when I'm 80 I'll still be saying it. I've been given extraordinary opportunities, with huge dreams fulfilled. I'm 42 and my eyes are still wide open."
Click below to read about Nicole's mom's group and children Isabella and Connor.

Despite her celebrity status, Nicole still manages to keep a normal routine for her daughter, including a weekly morning play group in her home with ten other children and their parents. "This is my way of having 10 kids," she laughs, before adding she is hoping to eventually expand her family further with Keith.
For now, Nicole is concentrating her efforts on nurturing her personal life which includes Isabella Jane, 17 next month, and Connor Antony, 14, her children with ex-husband Tom Cruise. With the two spending the majority of their time in California with their father, Nicole has purchased a home close by for frequent visits.
"Once your kids become teenagers, a lot of parenting is knowing when to speak and when not to speak," she muses.
"I have to step back and let them live their lives."
Source: Ladies Home Journal
– Anya