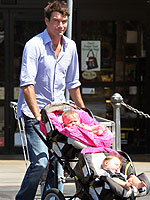 Fame
Each working actors in the industry, Jerry O'Connell and wife Rebecca Romijn have no problem providing for their fraternal twin daughters Charlie Tamara Tulip and Dolly Rebecca Rose, 10 months. That said, if the stars align, Jerry — noting that his girls are Capricorns — jokes that the tables will soon be turned!
"It means that they're going to be independently wealthy, so I'm hoping they can make some money and help fund my horse racing habit. Note I said habit and not addiction," the doting dad, on hand to celebrate the 2009 Breeders' Cup World Championships, laughs.
Although they may be twins, Charlie and Dolly's personalities are like night and day, Jerry notes. While one twin is "go with anything, you put her down, she's cool with it," her sister makes sure her needs don't go unnoticed!
"One is just a little more demanding, and wants her way," he explains to Celebrity Baby Blog. "If you have something shiny near you, she wants it and if you don't give it to her she's very upset."
And while he's more than willing to dish on his girls, Jerry stays mum on which twin possesses which personality!
"I just shouldn't say, but one is a little more diabolical than the other one, but I like that…it shows spunk."
With Jerry a stay-at-home dad by day and law student by night and Rebecca wrapping up work on the just-canceled Eastwick, alone time is a rarity. Fortunately, the couple call in the troops — both sets of grandparents! — on occasion to lend a helping hand.
"We throw the kids at them and then we'll take off for a couple of hours and go out to dinner," Jerry shares.
"Sounds pretty tame, but when you have kids, you can't fly off to Bora Bora for a weekend. Even a quiet dinner at Chili's away from the kids is just — I love them! — [but] it's a relief!"
– Anya with reporting by Nina Tyler