Joey Lawrence, Wife Expecting Second Daughter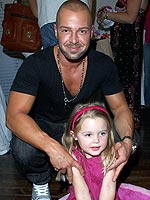 Jen Lowery/Startraks
Whoa baby!
Joey Lawrence and his wife Chandie are expecting their second child, the actor tells PEOPLE exclusively.
Due April 3rd, the baby will be another girl, joining "very excited" big sister Charleston, 3 ½.
"I am Estrogen Man," laughs Joey. "I'm from a family of all boys, and when I told my best friend Dave that my wife and I were having a second girl, he said, 'Look at you, my best buddy Estrogen Man!'"
The latest addition to the Lawrence family will be named Liberty Grace, the actor shares. The first name "is something I've always loved," Joey, 33, explains, while Grace is in honor of his grandmother, who passed away earlier this year.
While they're awaiting Liberty's arrival, Joey and wife Chandie — whom he wed in July 2005 — will be working with the Hot Moms Club to design their dream nursery. It will appear in Pregnancy magazine next year, along with a giveaway of a matching nursery. "I liked the idea of, 'Let's do something and let's give something away,'" the Dancing With the Stars alum notes.
The actor will be keeping busy on the work front as well, with two projects in the pipeline this winter.
First up is a new ABC Family show Joey will also be executive producing, costarring Melissa Joan Hart. "This is my return to half-hour comedy," the former Blossom star tells PEOPLE. "It's about two characters forced into each other's lives — the classic 'I hate you, now I'm going to fall in love with you.'" With filming beginning later this month, the as-yet untitled show will air next summer.
Additionally, Joey will be traveling to Calgary in February to film My Mr. Everything, a TV movie he developed and describes as "along the lines of The Proposal." Working with Wedding Crashers producer Andrew Panay, the actor expects the film to be ready for a holiday 2010 release on ABC Family.