Victoria Beckham: Romeo Is All About Fashion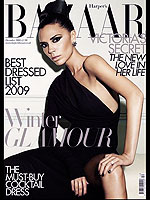 Courtesy Harper's Bazaar UK
When it comes to a fashion plate, Victoria Beckham take the cake! Consistently dressed to the nines, the Spice Girl has pushed the envelope when it comes to chic and fashion-forward style.
And while she and husband David Beckham have undoubtedly influenced the wardrobes of their three sons — Brooklyn Joseph, 10 ½, Romeo James, 7, and Cruz David, 4 ½ — it is the middle Beckham boy who shows a promising future in the industry. Gracing the cover of Harper Bazaar UK's December issue, Victoria reveals that Romeo is a miniature fashionisto in the making.
"We had dinner last night and Romeo wore a suit with a little shirt and tie," she says. "That's what he would wear every single day, he's so into fashion."
As for Brooklyn and Cruz, the brothers would much rather spend their time in the surf and the sand. "The other boys are all about going to the beach," she shares. "He's not interested." Instead, Romeo can often be found working diligently at his mum's side, offering his input on her clothing line where needed!
"He's like, 'I want to go to work with Mummy,' and he sits there going through the collection, feeling the fabrics, giving his opinion. He loves it."
Source: Harper's Bazaar UK; December issue
— Anya