Kellie Martin Is Enjoying Maggie's Independence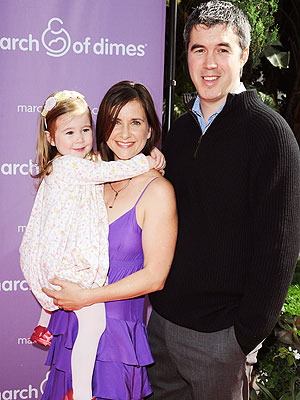 Axelle/Bauer-Griffin
Having welcomed a healthy daughter in 2006 — Margaret 'Maggie' Heather, 3 — actress Kellie Martin is ever cognizant of all she has to be grateful for.
"I had no trouble and no complications, and it's still difficult to be a parent … It's still difficult to be a new mom," the 34-year-old former ER star notes to Celebrity Baby Blog at the March of Dimes' Fourth Annual Celebration of Babies.
"The idea that people have babies who are born with complications and issues or really, really low birth weights, that's so much more difficult. I'm right here to support that."
As for Maggie, preschool is underway and although she suffers some separation anxiety from mom and dad Keith Christian, the experience has been a good one.
"She gets a little nervous for us to get there, but when she's there, she's fine. And it is really cool to see her have her own life that has nothing to do with us. She'll say something and [laugh], like a little inside joke she has with her friend Olive at school."
Watching Maggie become more independent is something Kellie says she relishes.
"I felt like she was really ready and she was craving more," she explains. "Like she was over me and my husband at home. She needed to broaden her horizons. So knowing that she was ready for that, I was fine."
There are lots of other milestones to celebrate, as well. Kellie says that Maggie knows her ABCs — "I don't even know where she learned them because we are not trying to push her," Kellie notes — her numbers, and she's already showing keen observational skills!
"On the way here she said, 'We're going to the March of Dimes benefit so we can help babies.' And she must have just heard us. If we say it, it's a part of her world….she's at that point where she's this incredible sponge and nothing gets by her — which is why we can't use the f-bomb in the house because it would be part of her vocabulary!"
Click below to read about whether Kellie is supportive of a career in acting for Maggie.
There are no immediate plans for Maggie to pursue a career in show business, and Kellie says she hopes it will stay that way. "I don't want her to do it," she admits. "I really had a great experience and it was awesome for me but the people I know who it really worked for, I can count on one hand."
Kellie — who says she's considering going to culinary school — credits motherhood with teaching her to live in the moment.  "That was what I always aspired to do," she explains, adding,
"I love yoga and I was always going to yoga class so I could live in the moment. But having a child made me live in the moment because it's just a series of new things and chaotic situations. I feel like … when she was born, she brought with her a beautiful chaos, which is now a part of my life. I like things organized and I like things to like go just so. But Maggie, that just doesn't work for her. So I have to go with the flow with her."
That laid-back approach extends to shopping for the upcoming holiday season, with Kellie revealing that "one gift from mom and dad is plenty." Describing her philosophy as "less is more," Kellie says that a $20 present "is fine."
"My daughter is three years old. If she gets more than one gift, she just glazes over. She doesn't really absorb it and I think that people really need to not go overboard … just one thing at a time."
Simplicity is also key! Kellie offered praise for a cardboard teepee sold at pal Soleil Moon Frye's store The Little Seed.
"You can recycle it when you're done," Kellie notes. "But they can write and paint on it and have a little fort. That's actually something I'm thinking of getting her."
— Missy with reporting by Tiffany Matloob