CBB Chats With "Fancy Nancy" Author and Illustrator About Their Newest Book!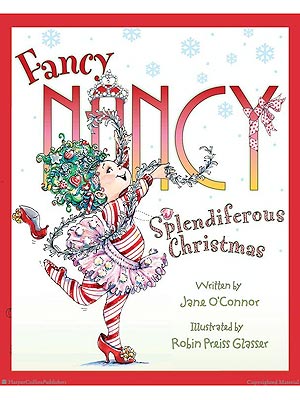 Fancy Nancy Splendiferous Christmas
Every kid (big or small) loves the holidays! And Fancy Nancy is no exception. On November 3rd, Harper Collins released Fancy Nancy Splendiferous Christmas — the latest in the Fancy Nancy picture book series.
The merry story details Nancy's efforts to make Christmas as "splendiferous" as possible.
Since the series launch in 2005, the Fancy Nancy brand has sold more than 8 million books, spent over 175 weeks on the New York Times bestseller list and won countless literary and toy industry awards.
They've even expanded to dolls, dresses, tiaras, shoes, party goods, calendars, bedding, board games and much, much more!
If you live in the L.A. area, stop by the PEOPLE-hosted event at Every Picture Tells A Story… children's gallery and book shop this Saturday (11/14) from 11 a.m. to 1 p.m.
Not only can you meet author Jane O'Connor and illustrator Robin Preiss Glasser, but signed copies of the book will be available for purchase. Guests will also take home a free PEOPLE gift bag (while supplies last).
Recently, CBB had the pleasure of chatting with Jane and Robin about their newest book, as well as all things Fancy Nancy.
Click below to read the interview.

Can you tell us a little about the new book?
Jane: Well, Christmas is Fancy Nancy's favorite holiday. With all the tinsel, candy canes, cookies… there's a lot of decorating at Christmas. So she had a ball.
Robin: She even makes her own presents that she wraps up in cartoon paper. She makes her doll Maribel a holiday quilt with a handkerchief and stapled lace trim.
The drama begins when the tree top that Nancy has saved all her money to buy breaks. So she and her grandpa have to improvise and she has to make a homemade tree top that she dubs a family heirloom. In each story, there's always a heartwarming message underneath it all.
Jane: But it has a silly side too. There was a girl at a bookstore last night and she told me that she's nine but she still likes reading the books because of how silly Nancy is. For example, a five-year-old will think stapling lace onto a handkerchief is really fancy, but a nine-year-old sees how silly it is.
How would you describe Fancy Nancy in general?
Jane: She's a little girl who likes to dress up and use fancy words. She just likes to make a mark. It's not about being a princess, it's more about do-it-yourself fanciness. She has a plain room, but she's rigged up a canopy bed by using a sheet and a broom and a mop to make it into a four-poster.
She's a toddler Martha Stewart. She loves fancy things, but she does it herself. But she's also a drama queen so I really get to go to town with her. But she means well. She just gets carried away because she tries to make everything larger than life.
Also, Nancy's family is much plainer than she is. They will go along with her because she's an individual but they definitely reign her in when she goes over the top. Her family is there to keep her based in reality.
But Fancy Nancy's not just a girlie girl. It seems like she's active and takes charge of situations.
Jane: That's definitely true. She plays soccer, has a nature club and does things herself. She's not just all about dress up. That was the beginning bit, but it blew out very quickly.
Robin: The other thing that people have latched onto is the books are very funny. Nancy is one of those children who loves to say complicated words for instance splendiferous instead of fun. And Jane has dubbed these big words "fancy words" so the kids are just enjoying the language while reading the book.
They don't realize they're learning vocabulary. Jane sprinkles Nancy's "fancy words" judiciously throughout these picture books so you see two and three and four-year-olds really gaining a really nice vocabulary.
How old is Fancy Nancy?
Jane: I've never come out and said what her exact age is. To me, she's around six. In school, she and her classmates are doing 1st and 2nd grade kinds of things like family trees and things like that.
Robin: I would say in the very first book she looks slightly younger — like four or five. But she grows and lengthens out a little bit in the later books.
The Fancy Nancy franchise is huge. Did you expect it to get this big?
Jane: In Fall 2007, the first dolls came out. And it's picked up steam from there. It amazes Robin and me. The brand now includes sneakers, school supplies and backpacks. We're also releasing a t-shirt at the Gap. And Neiman Marcus is going to sell pajamas. It's the biggest surprise of my life! Our editor Margaret did it all. I remember her telling us that if this book doesn't become a bestseller than I'm in the wrong business. I've been writing children's books for 30 years but none have taken off at the level of this one. It hit some kind of nerve and we're very lucky, but it wasn't intentional.
Robin: We're more shocked by the hundreds of little girls who come to our book signings. And that the parents or grandparents always say to us that's our daughter, our niece, our neighbor, our granddaughter. She's universal!
So why do you think she's so popular with little girls — and kids in general?
Jane: When I was a kid, I loved the Eloise books because she did have this glamorous life but I didn't want to be Eloise because she had no friends, she had no family… She just had her nanny and Skipper Dee. Nancy is like a kid you could know. I think most kids feel if they aren't Nancy, then they know someone like her.
On our first tour, we were in an airport late at night trying to catch a plane and we saw a little girl in a long organza skirt and other glitzy clothes with her mom. And we just looked at each other and said, "They're everywhere!"
Robin: But Jane and I also believe Nancy is elements of us. So in a way, Jane is writing a little in her own verse. I completely relate to her and draw her from my own feelings and expressions too. I just feel like Nancy represents something that is inside of so many of us. I don't know what it is, but it's real.