Rod Stewart 'Closing the Office' After Eighth Child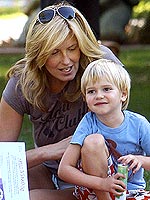 De La Cruz/MostWanted
Eight is enough for Rod Stewart.
The singer, who has seven children, and third wife Penny Lancaster Stewart, 38, are hoping to add one more.
"Yes, we're trying – we actually tried last night!" Rod, 64, told the British talk show GMTV. "One more and then we're going to close the office."
But there's still work to do with the ones he's got already. Rod, now promoting his latest album of R&B classics called Soulbook, said he is having trouble teaching soccer to his youngest son, Alastair Wallace, who will be 4 later this month.
"He's just a sweet kid at the moment," he said. "I did take him out on the football field the other day. He put all his Celtic stuff on, I said, 'Come on, let's get running out there,' and he went, 'Oh, there's some flowers for Mummy – must collect them.'"
"He spent about two hours collecting flowers in a basket for his mum!"
— Simon Perry