Sarah Jessica Parker's Favorite Fragrance: Warm, Wet Diapers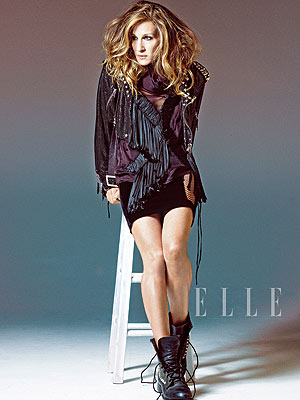 Courtesy Elle
Most parents agree that integrating an older sibling into the process of welcoming a new baby is essential.
However, when actors Sarah Jessica Parker and her husband Matthew Broderick were approached by their 7-year-old son James Wilkie asking if he could take on the task of naming one of his baby sisters, the couple were more than a little apprehensive!
"He told me he really wanted Marion to be in the mix," Sarah Jessica reveals in the December issue of Elle.
"We thought, 'Are we crazy? Do we let our son name one of the girls? Is that the right thing to do? Is it important for him?' And then he goes, 'And I want it legal.'"
While James may have had the honor of naming his new sister Marion Loretta Elwell — whom the couple call by her first middle name — it is Sarah Jessica and Matthew who are on diaper duty for the 4-month-old and her twin Tabitha Hodge — and the actress embraces the task with open arms and a deep breath!
"I love the smell of diapers; I even like when they're wet and you smell them all warm like a baked good," she confesses. "I love the smell of Balmex. Love it."
Click below for the cover shot and more from the interview!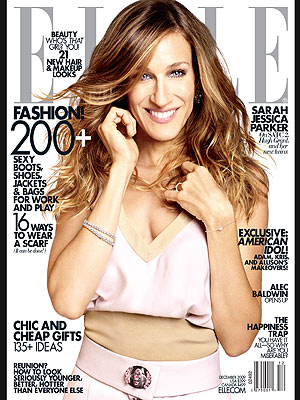 Courtesy Elle
Although she may love all that the baby phase entails, the Sex and the City star eagerly looks forward to what the future holds.
"First of all, I have a fear that they're not going to like me," she admits.
That said, Sarah Jessica awaits the day she can hand over her famous Carrie Bradshaw wardrobe to the twins.
"The only tragedy would be if their feet are bigger than mine."
Despite her obvious love for her new family of five, the 44-year-old is well-aware that her decision to use a surrogate to carry the girls created controversy in the public eye.
"I knew there would be lots of opinions about, 'Well, why didn't you adopt? Why didn't you do this? Why didn't you do that?' and the truth of the matter is, it wasn't one or the other for us," she says.
"We had explored, and continue to explore all options, and this one just happened first. This isn't the period at the end of the sentence."
Sarah Jessica's new movie Did You Hear About The Morgans? is in theaters December 11th.
Source: Elle; December issue
— Anya