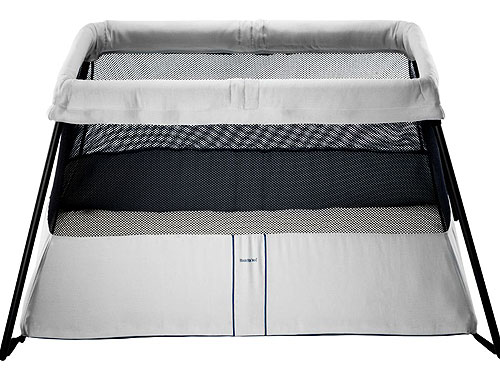 BabyBjorn Travel Crib Light
Looking for a great travel crib for your child? Try BabyBjorn's Travel Crib Light ($215 to $226 depending on the retailer). It weighs only 11 lbs, comes with a travel bag (with handles) and literally sets up in under a minute.
Just take it out of the bag, hold the sides and flip it out so the legs unfold towards the floor. BabyBjorn actually has a very cute "competition" video that shows how fast you can set it up. One dad does it in 21 seconds.
This lightweight, compact crib also comes with a water-repellent mattress cover that's easy to remove and machine washable! If you want, you can also buy the company's organic fitted sheet ($32).
While it's too small to use as an everyday playard, it's perfect on-the-go — especially when you have to get a sleepy child to bed while traveling. It's designed for newborns up to 3 year olds.
– Nancy