Jerry Seinfeld Says Sascha Inherited His Sense of Humor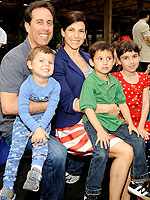 Gary Gershoff/Getty
Forget the smile, forget the eye color. When it comes to passing traits on to his children, Jerry Seinfeld has given much more than the eye can see: the funnyman's kids have inherited his sense of humor!
"Watching my kids, especially my daughter [Sascha, 9], it does seem to be in the DNA somewhere," he tells GQ UK, "because I see her falling asleep with these big joke books."
While he doesn't doubt Sascha's interest in comedy, Jerry admits her dedication still catches him off guard.
"She's [9]-years-old — she can read anything, why's she reading jokes? I think it's somewhere in the biology."
The ability to mandate his own schedule as a stand-up comedian is something Jerry can't appreciate enough. "You can take time off when you want to," he says, adding that his career, in that aspect, mirrors that of a plumber. "You can work when you want to. I get to roll around with them all the time — it's fantastic."
In addition to Sascha, Jerry and wife Jessica Seinfeld are also parents to Julian Kal, 6 ½, and Shepherd Kellen, 4.
Source: GQ UK
— Anya