Rachel Griffiths Hoping Three Kids Enjoy a 'Free Range' Childhood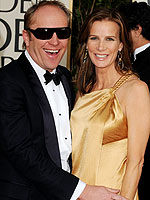 Steve Granitz/WireImage
Although she garnered an Academy Award nomination for her role in 1998's Hilary and Jackie, Rachel Griffiths — currently starring in ABC's Brothers & Sisters — says that television work suits her just fine. "I have a nice balance," she notes in the November issue of Cookie magazine.
The ability to bring new baby Clementine Grace, 4 months, to work helps. "[Clem is there about] "half the time, depending on how my days are," she adds.
On those days when her family of five — which includes son Banjo Patrick, 6 this month, daughter Adelaide Rose, 4, and her artist husband Andrew Taylor — are together at their Santa Monica home, Rachel says they can often be found outside.
"Children are like dogs," she explains. "They really shouldn't be inside; They need to run and use their bodies."
To that end, Rachel says she's tried to emulate her own "free-range" childhood with Banjo, Adelaide and Clem, conjuring up memories of a time when "your mother would yell, 'Dinner!' and kids would come out of the creek or appear out of bushes."
"I've tried to create a sense of danger and exploration in a safe area. My yard's boundaries are secure. My pool is fenced, so they don't have to worry about that. The kids know that if they go down the slope at the end of the backyard, there's a beehive there — they might get stung, but hey, if you want to, go for it."
Adding that "they climb trees, they swing and hang," Rachel says that playing in their backyard — complete with playhouse, rope swings and a surfboard-like plank on springs — will often send Banjo and Adelaide "into an imaginary world."
The couple like to expand their kids' real world horizons with trips and vacations abroad as often as their schedules permit, however. "We have fervent periods of work," Rachel, 40, explains, "and then we have gorgeous periods of being together and relaxed."
Defining "downtime" as a "holiday so long that the kids grow out of their shoes," Rachel adds,
"The kids understand the rhythm and the creative process; they know Dad goes a little nutty before [an art] show. I'll say, 'I can't be with you right now, but I've got three days off coming up. What should we do?'"
Click below to read about Rachel's take on motherhood in the U.S. vs. motherhood in Australia.
When she returned from maternity leave, Rachel — who is nursing Clem — says she was forgiving of herself. "If I burst into tears during a fitting because I'd been up all night, that was fine," she explains. "I just gave myself permission to not be fully integrated."
Her laid-back approach extends to the kids, as evidenced when Banjo cut a hole in his bedroom curtain in order to see people approaching their home. Rachel's take? "Brilliant. All curtains should have peepholes."
Noting that "motherhood is defined differently" in the United States than in her native Australia, Rachel says "child-rearing reaches a different level of stress and self-immolation" here. She elaborates,
"In Australia, I don't think women stay up all night baking cupcakes for their kids' bake sales when they're a lawyer working an 80-hour work week, just to prove they're a good mommy. You just stop at the 7-Eleven and buy the cupcakes. And no one would judge you for it."
At the same time, Rachel reveals that she makes her kids Halloween costumes by hand, prefers to buy fish at a local farmer's market and uses glass bottles and cloth diapers with Clem. "I'm a bit greener this time around," she says.
Predicting that for the immediate future family life will remain "super-simple," Rachel says "it's all about staying relaxed." "So what if the kids have a really boring life for two years?" she asks. "That's fine by me. I'd like to keep things puttering on the way they are." For good reason; When asked about her proudest parenting moment, Rachel replies,
"Seeing my three children together for the first time, and seeing how open numbers one and two were to loving their new little sister."
Source: Cookie, November issue
— Missy