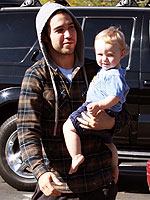 Flynet
Who lives in a pineapple under the sea? None other than Spongebob Squarepants, Bronx Mowgli's new best friend, according to dad Pete Wentz.
Reaffirming wife Ashlee Simpson-Wentz's sentiments that the cartoon character is a hit in their household, the Fall Out Boy rocker tells Ryan Seacrest that the couple's son, who turns 1 later this month, is likely going to celebrate his first year in Spongebob style.
"We got the one-year birthday coming up which is going to be pretty awesome," he says. "I think we're going to go Spongebob."
As for party decorations, Pete and Ashlee need not look too far.
"We have these giant Spongebob paintings in our house and I said, 'Spongebob' a couple times when we were walking by it. Now [Bronx] has to stop every time we walk by and he says, 'Bob.'"
Pete and Ashlee aren't the only ones touched by Bronx's love of all things Spongebob; Bob, Pete's manager, believes baby boy has taken a liking to the name after spending time with him. "I swear to God he thinks [Bronx] says 'Bob' because of him and I don't want to break his heart!" the proud papa laughs.
Source: On-Air With Ryan Seacrest
– Anya