Ana Ortiz Is Already Set to Expand Family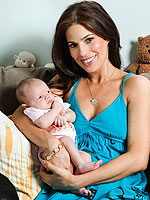 Erin Patrice O'Brien for PEOPLE for use on CBB
Although Ana Ortiz gave birth to her daughter Paloma Louise only 4 ½ months ago, the Ugly Betty actress says that she and her husband, musician Noah Lebenzon, are already planning to have more.
"I don't know when, but probably sooner than later," Ana, 38, told PEOPLE at the 6th annual Lucky Shops hosted by Lucky magazine this week. "You know the clock is ticking."
Now that her ABC show has moved from Los Angeles to the Big Apple, the native New Yorker enjoys being back home and spending time with her mother.
"Being in New York, where I was born and raised, and sort of raising another New York kid has been a really cool experience for me. I was in L.A. for so long," Ana says. "Also rediscovering a new relationship with my mom has been a pretty amazing thing."
Now that Ana is back home, she says that the three generations of women do everything together. "My mom is my go-to. She comes to set with me and she takes care of [Paloma] while I'm filming," she says. "She is just sort of my right hand with the baby."
— Isley Kasica