Milla Jovovich: Everything Other Than Ever Is Icing on the Cake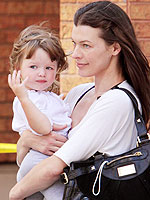 O'Neill/White/INF
If motherhood has taught Milla Jovovich one thing, it is to be completely selfless when it comes to her daughter Ever Gabo, 2. "Before you have kids, you create so many problems that are centered in yourself," she tells PARADE. "You're thinking, 'Am I ready for this audition? Am I good enough?'"
Placing Ever at the top of her list of priorities has proven beneficial for the actress, who admits success in her career is now simply icing on the cake. "Even if I don't get the job, I know I'm going to be really busy at home," she says, adding that motherhood is "a full-time job" in of itself.
"Now it's all about my baby, her growing up well and getting everything she needs. Everything else is just a plus."
Time spent with Ever is time well spent for Milla who believes it is vital for parents to truly connect with their children. "You've got to know your kids like the back of your hand and make sure they're honest with you and not scared to tell you things," she explains.
As a result, come time for school for her daughter, the actress can rest assured she will be in the loop!
"I know when Ever goes to school I'll be letting my little bird go, but I just want to make sure she tells me everything that happened, good or bad."
Ever is the only child for Milla and her husband, director Paul W.S. Anderson.
Source: PARADE
— Anya