Jennifer Connelly Grateful For Her 'Gorgeous, Healthy, Funny Kids'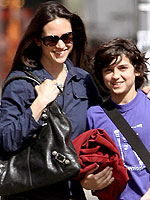 Freddie Baez/Startraks
Having spent her summer "hiking, swimming and relaxing" in the mountains with husband Paul Bettany and the couple's two children, Jennifer Connelly is in a good frame of mind.
The 38-year-old actress admits she struggled following the death of her father last year, but has since gotten back on track. "I've been trying to be very healthy, eat well and get lots of fresh air and sunshine," she tells the UK's Daily Mirror. "I'm very blessed. I have gorgeous, healthy, funny kids and a good husband."
As for whether those kids — Stellan, 6, and Kai, 12– will follow in her footsteps, Jennifer says it remains to be seen. "Stellan was saying for a while that he wanted to be an actor," she reveals. "But we just went on holiday where we did a lot of snorkeling and now he's saying he wants to be a marine biologist."
It appears as though the boys have more than a mom in common! Jennifer adds,
"Weirdly, at exactly the same age, Kai said he wanted to be a marine biologist too. He's never wanted to be an actor, but for the last three years he has been doing school plays and really loves it."
No matter where her job takes her, Jennifer says that family remains the priority. "Becoming a mother has made all the difference in terms of learning to take more responsibility for myself and my life," she says. "Parenthood changed the way I do everything."
"The biggest thing for me is wanting my kids to grow up safely and have happy lives. To me, that's enough."
Kai is Jennifer's son with ex-boyfriend David Dougan.
Source: Daily Mirror
— Missy