Kyle MacLachlan Counts on Callum For His Halloween Costume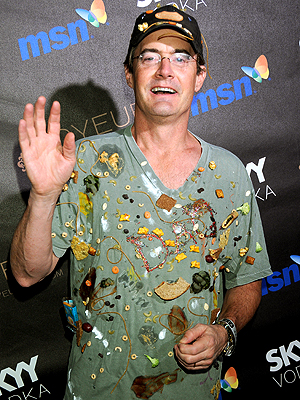 Gregg DeGuire/PictureGroup
There were no ghoulish masks or intricate costumes for Kyle MacLachlan this Halloween.
Instead, the 50-year-old actor, who showed up at Heidi Klum's 10th Annual Halloween Party in a t-shirt and baseball hat covered in bits of food, played the part he knows best: father of 15-month-old son Callum Lyon.
"I just came tonight, I didn't think I needed a costume," he tells Celebrity Baby Blog.
"We had breakfast this morning and then had a little bit of lunch with broccoli and there was a little bit of cereal. For dinner we had macaroni and cheese and then for snack we had some Cheddar Bunnies."
And while toddlers are not known for their delicate eating habits, Kyle is quick to note that he has far more to learn than his son.
"Well to be fair, he's not a messy eater," he explains. "I'm a messy feeder!"
As for Callum's costume, Kyle reveals that he and his wife, Project Runway executive producer Desiree Gruber — who decided to skip trick-or-treating — chose a zebra get-up for their little boy.
"We dressed him up and took a lot of pictures to use to blackmail him when he's older," the doting dad jokes.
Clearly elated with first-time fatherhood, Kyle raves that the couple have been "really lucky" with Callum. "We're just loving him so much, he's such a joy," the Desperate Housewives star says.
Among baby boy's latest milestones — including a few new molars! — is most noticeably his early interest in academics.
"He's memorized the first three letters of the Encyclopedia Britannica. He's got A, B, and C [and] we're working on D. Just kind of the same old thing."
— Anya with reporting by Michelle Ward