Christy Turlington Burns Says Children Appreciate Mom's Charity Work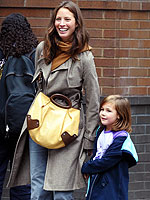 Flynet
When Christy Turlington Burns delivered son Finn, 3 ½, in 2006 without complication, she was acutely aware of how much she had to be grateful for. While still pregnant, the 40-year-old supermodel embarked on her first trip with CARE to El Salvador, where she met with pregnant women who had walked for miles to collect clean water.
"[I] continued to think about those women and wondered how they have fared," Christy tells the November issue of Parents magazine. "I learned that more than a half million women around the world die giving birth each year, and nearly all the deaths are preventable."
The experience left a lasting impression, and Christy — also mom to Grace, 6 — continues to work on behalf of the organization and others like it. "My kids know that when I'm away, it's to help other moms and their families," she explains. "They seem to appreciate this, which makes leaving a bit easier."
It's also made them appreciative of all they have. Christy adds,
"Grace often says we're 'lucky.' I've told them about some of the conditions I've witnessed, but I balance that by describing the natural beauty of a place like Africa. They can identify the spots I've visited on a map including Bangladesh."
Someday, Christy says she plans to show her children these countries up close. "I look forward to their being old enough to come with me; I plan to take them to Tanzania when they're 8 and 11," she reveals. "I think sharing the world with them will be my greatest contribution as their mother."
Grace and Finn and Christy's children with husband Ed Burns.
Source: Parents, November issue
— Missy