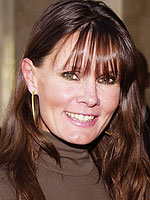 Jean-Paul Aussenard/WireImage
Having recently wrapped up a three-month turn on As the World Turns, Lynn Herring is back at her cattle ranch outside Los Angeles — and there's nowhere she'd rather be.
"Up here, I'll throw on mascara to go to the booster meeting or the PTA because, you know, you've got to look nice for the moms and dads but that's it," the 51-year-old actress tells Soap Opera Digest.
If her Topanga Canyon neighbors were to recognize her, Lynn says it is more often than not from her brief tenure with ATWT, and not from her longer reign as Lucy on General Hospital and Port Charles — something which "threw" sons Hank, 18, and Grady, 16, for quite a loop. "Hank … goes 'Mom, they actually watched you,'" Lynn recalls. "They got a hoot out of that."
Of the boys, Lynn adds,
"They're doing great. Hank is at USC having way more fun than I think he should, and Grady is actually in his first play at the end of this month."
Hank and Grady are Lynn's children with husband Wayne Northrop.
Source: Soap Opera Digest, November 3 issue
– Missy