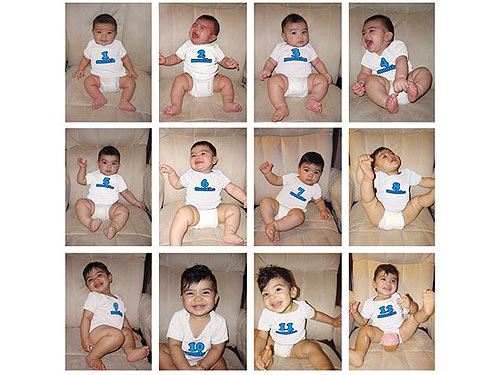 Uno Dos Max
Unodosmax's "Watch Them Grow" T-shirt Kit ($75) is a unique way to document your child's first year. It comes with 12 white short sleeve lap tees ($6.25 each) in your choice of pink, blue or green numerals.
Each month, throw one these cute tees on your little one and take a photo. You'll have an adorable pic for each month leading up to his or her first year. After your child turns one, use the pictures to create a keepsake like a calendar, collage or photo book!
Perfect for a baby shower or new baby gift, the kit was designed by Jill Topol — a former celebrity stylist for Beyonce, Justin Timberlake and the Jonas Brothers. She got the idea after designing personalized tees for her son Max (above) to mark each birthday.
– Nancy