The Name Game: Down With Nouns
Thinking outside the box when it comes to naming babies goes part and parcel with being a celebrity, and in their search to come up with the perfect moniker some have clearly pushed that envelope more than others. According to nameberry.com co-founder Linda Rosenkrantz, word names are an increasingly popular way to do just that.
"When looking for a really unusual baby name, many celebrities have started to search the dictionary for a noun or adjective that will define their child, choosing words that have rarely, if ever been used before as people-names," she explains.
"Some of them seek words that reflect their spirituality or values, others display their appreciation for nature, and then there's a whole range of others from the sweet Poet and Petal to the bad-boy Bandit and Rogue."
The so-called "bad boy" names are "the most audacious of all," Linda says. Director Robert Rodriguez is clearly a fan of this genre, with sons Rogue, Rebel, Racer and Rocket. Meanwhile rocker Jonathan Davis opted for Pirate, and Gerard Way is dad to daughter Bandit.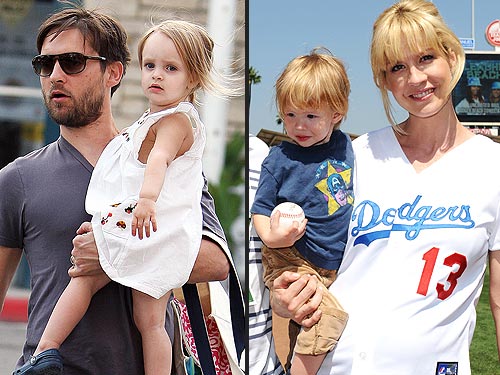 Tobey and Ruby Maguire; Jenna and Story Elfman – Splash News Online; Axelle/Bauer-Griffin
Click below for Linda's picks for the best "soft and sweet" word names and more.
At the other end of the spectrum are "soft and sweet" words such as Sweetheart, middle name of Tobey Maguire's Ruby, Poet, daughter of Soleil Moon Frye; Dream, chosen by NBA All Star Allen Iverson and singer Ginuwine; and Story, son of Jenna Elfman.  Spiritual names like Angel, daughter of Melanie Brown; Heaven, daughter of Brooke Burke and David Charvet; and Trinity also offer inspiration, the latter of which was chosen by Dennis Rodman, Trace Adkins, and is the middle name of Diane Farr's Coco.
Other celebrity parents project their values and lofty aspirations for their children by settling on noble words as Freedom, as chosen by Ving Rhames; Justice, the middle name given by Jayceon Taylor to son King; Honor, as chosen by Jessica Alba and Cash Warren; Bravery, the middle name given by Talisa Soto and Benjamin Bratt to son Mateo; Mercy, daughter of Andy Richter; and True, as chosen by Joely Fisher as well as by Meg Ryan as a middle name for daughter Daisy. Slightly less lofty are Penn Jillette's Moxie, Macy Gray's Happy and Adam Sandler's Sunny.
Speaking of the sun, nature word names are on the rise. Linda cites the unisex Rain, as chosen by Marisol Nichols as well as Corey Hart; Petal Blossom Rainbow, all three names for Jamie Oliver's newest daughter;  River, as chosen by Keri Russell; Ocean, as chosen by Forest Whitaker; Fire, as chosen by Steve Vai; and the buzz-worthy Sparrow, as chosen by Nicole Richie and Joel Madden.
Lately there have been a few royalty-nobility word sightings, as in Kelis and Nas' son Knight, the aforementioned King, and Czar, middle name of Tisha Campbell-Martin's son Ezekiel.
Of course, some word names aren't even able to be categorized! They include Verve, as chosen by Shawnee Smith; Peanut, as chosen by Ingo Radenmacher; Navy, as chosen by Nivea and Terius 'The Dream' Nash; Million, as chosen by Mystikal; Banjo, as chosen by Rachel Griffiths; and, of course, Jason Lee's Pilot Inspektor.
In addition to her work with nameberry.com, Linda has co-authored ten baby-naming books with Pamela Redmond-Satran. Their newest title, Beyond Ava & Aiden, is available now.
— Missy
What's your favorite celebrity-given word name? Would you (or did you) use a word name with your own child?