Uma Thurman: 'Parenting Isn't a Sprint – It's a Marathon'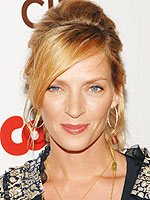 Peter Kramer/AP
Being corrected in public for committing a parenting no-no is the moment every parent dreads, including Uma Thurman. "Oh tons," she tells BabyCenter of the number of times she's been the guilty party."It's horrible."
At the same time, the 39-year-old actress admits she's occasionally been the one doling out the guilt. "I saw this father lifting his kid up by the arm the other day and I thought…'I know that's why I have lifelong shoulder problems,'" Uma recalls. "Somebody thought it was fun and I probably was laughing, meanwhile for the rest of my life I have to go to the chiropractor." She adds,
"I bit my lip and thought 'Don't say anything' but then I saw him pick her up again by the arm so I said to him quietly, 'You know you can cause damage to the rotator cuff accidentally?' Then I thought, 'I'm such a creep!'"
Being overly harsh with herself is something Uma acknowledges in the interview, expressing sentiments most moms can relate to. "You feel at times so awful about something going wrong or something you wish you could have done better," she admits. "I guess I put a lot of pressure on myself, like I've ruined everything."
When she's feeling overwhelmed, however, Uma says she reminds herself that "parenting isn't a sprint — it's a marathon." She goes on to point out,
"Life is long and all of your unnoticed good efforts also add up to something."
Listing sleep deprivation — something she calls "a known torture" — as the biggest challenge of motherhood, Uma says that hers began in earnest while still pregnant with Maya Ray, now 11.
"It's part and parcel of having a child," she observes. "I never ever slept again after my first pregnancy. And I was a champion sleeper! I could wake up… go back to sleep… wake up … do it again. It was almost like an Olympic sport for me."
In addition to Maya, Uma is mom to 7 ½-year-old Levon Roan with ex-husband Ethan Hawke.
Uma's new film Motherhood is in theaters now.
Source: BabyCenter
— Missy