Liev Schreiber, Sons Bond Over 'Straight Up Boys Stuff'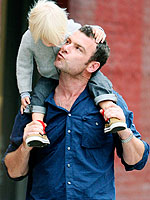 Bauer-Griffin
Boys will be boys! At least according to actor Liev Schreiber, father of Alexander 'Sasha' Pete, 2, and Samuel Kai, 10 months, who tells Us Weekly that the trio's quality time spent together is, more often that not, nothing more than good old-fashioned male bonding.
"We like dinosaurs a lot. We like to draw. We like cars. Pretty much straight up boys stuff."
While Liev certainly knows how to have a good time with his sons, he admits when it comes to more domestic areas — like searching for the perfect Halloween costumes — he finds himself in uncharted waters.
Fortunately his fiancée, actress Naomi Watts, takes the lead without missing a single beat. "Naomi pretty much takes care of costumes," he says. "She's great at that."
Next up for Liev is the action film Salt — due out in theaters in 2010 — costarring Angelina Jolie.
Source: Us Weekly
— Anya