Hugh Jackman Dishes on Ava's Halloween Plans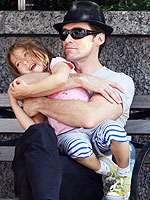 Fame
In a new interview with OK!, Hugh Jackman reveals that 4-year-old Ava Eliot will be extra sweet this Halloween. "My daughter this morning decided she wanted to be a muffin," the 41-year-old actor shares. "I said, 'What flavor?' and she said chocolate chip."
Hugh's level of involvement on the big night remains somewhat in question, however. He adds,
"I'm going to be trick-or-treating, but I'll actually be onstage performing [in A Steady Rain] on Saturday night. I'll help them get dressed."
His comments came as Hugh was attending a benefit for the Worldwide Orphans Foundation, which honored Hugh's wife Deborra-Lee Furness, founder of the child advocacy group Orphan Angels.
Praising Deborra-Lee as a "beautiful, amazing woman," Hugh says that the couple will always make one-on-one time a priority. "Make sure you have a date night just the two of you together, without the kids," he advises.
"And don't be afraid to tell your kids that you have no idea what you're doing either."
In addition to Ava, Hugh and Deborra-Lee are parents to Oscar Maximillian, 9.
Source: OK!
— Missy