New York Knick Al Harrington Welcomes Daughter Amaya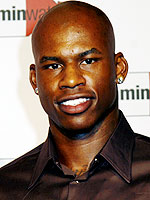 Nancy Rivera/Ace Pictures
It's been a momentous few weeks for New York Knicks star Al Harrington. In September the 29-year-old forward-center married longtime love Michelle, and this month the couple welcomed their first child — a daughter named Amaya.
No information on baby girls' birth stats have been provided, but Al recently revealed that Michelle's due date was October 22nd. In an August interview with NBA.com, the excited expectant papa said that his summer training regimen was taking place close to home.
"My wife is pregnant this summer so we haven't really been able to go anywhere. I've just been here in the city working out, but I did go to Vegas for two weeks to train. But I couldn't wait to come back to be with her. It's my first kid. A little baby girl."
The Knicks will kick off their regular season tonight in Miami.
Sources: Newsday.com and NBA.com
Thanks to CBB reader Victoria.
— Missy