Uma Thurman Says Motherhood Is the 'Best Kept Secret'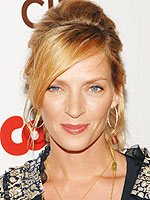 Peter Kramer/AP
In a new interview with PARADE, actress Uma Thurman reveals that making The Avengers — a film she says "really wasn't good while it was going on" — sparked her desire to become a mom.
"I came home from making that movie and I started rethinking my life," Uma, 39, explains. "I said to myself, 'I'm going to have a baby,' because I felt like I'd gotten to a spot where I wasn't sure what I was acting for." She asks,
"Was I running from myself going from location to location? Was I hurting myself? I wanted something different that would change me."
Mission accomplished! Uma says that after welcoming Maya Ray, 11, she soon realized that motherhood is "the best-kept secret" around. Uma adds,
"You know how parents rattle on to you about, 'Oh, you won't believe your life will never be the same,' and da, da, da and you think, 'Why can't these people just get over it? All they're doing is yakking on about their kids. It's such a bore.' And then you have kids and you just want to do all the same things."
Uma admits, however, that she "struggled" with guilt as a working mom — especially when Maya and her 7 ½-year-old little brother Levon Roan were babies. "You feel much more conflicted," Uma notes. "Sort of like, 'What's worthy enough to interrupt my kid's life to take them on the road with me while I do a movie?'"
Now, Uma says, she tries to balance the two and be more forgiving of herself when her best efforts fall short. "I probably overthink things, but I try to do the right thing," Uma says.
"I just do my best. Any working mother will tell you it's the same. I think every working mom is kind of a superhero. I think we all are."
Maya and Levon are Uma's children with ex-husband Ethan Hawke.
Source: PARADE
— Missy