Motherhood Is Mary-Louise Parker's Favorite Role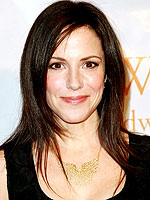 Neilson Barnard/Getty
Nothing beats the home life for Mary-Louise Parker.
"Becoming a mom is the best thing that's happened to me," the Weeds star, 45, told PEOPLE at the 5th Annual Worldwide Orphans benefit gala in New York City Monday. "I'll be the first to admit that it can be very hard to raise two kids, but I absolutely love it. I can't imagine what my life would be without my children."
Mary-Louise, already mom to William Atticus, 5 ½, her son with former boyfriend Billy Crudup, adopted Caroline Aberash, now 3, from Ethiopia in August 2007. She says it was the "best decision I've ever made."
"She says, 'I love you, Mommy' and asks, 'Do you love me so much?,'" Mary-Louise says with joy. "She has a little bit of a speech delay; Amharic was her first language she heard. But she's really indomitable. She's really strong and she's like a little warrior. She's really amazing."
And she's a great fit with her big brother.
"They both want to put on shows all the time with top hats," Mary-Louise shares. "It's very vaudeville. They are really sweet together and sometimes they hurt each other, but they are just like me and my brother."
These days Mary-Louise can share the joys of motherhood with her musician boyfriend Charlie Mars, 35, whom she calls a "great guy." "He's kind and very sweet," the actress says.
Now that Mary-Louise has two kids in her life, what has she learned about herself? Patience!
"They really put you in touch on how little you know and how little you are capable of and much you are capable of," she notes. "They are very humbling, children. I am more patient now. I've become much more patient."
— Paul Chi