Maclaren Grand Tour LX Stroller: Luxury Is an Understatement!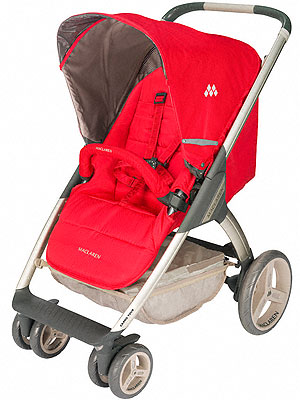 Maclaren Grand Tour LX
The Maclaren Grand Tour LX stroller is, well, grand!
Long known as the leader of the umbrella stroller set, Maclaren has upped the ante in the stroller market with the creation of the new Grand Tour LX.
It's a luxury ride for children from newborn to toddler and it's sure to impress parents looking for a little something extra in their stroller.
Click below for the details!

Putting It Together
The Grand Tour LX ($900) comes ready to use right out of the box. Just unfold and go. If, however, you want to use any one of the included goodies — like the canopy, raincover, mosquito net or Strollometer® — it may take you an extra 30 seconds or so, but other than that, the Grand Tour LX is really easy to get on the road.
The Seat
It has three seating positions (upright to full-recline) and ample room for your little one. It can also be mounted on the chassis facing forward or backward — a feature few strollers have. I also really love the padded, five point system harness — it's super easy to figure out. The seat fabric is machine washable and comes in a variety of  stylish color-options.
The Ride
The Grand Tour LX has all of the fluidity of a typical high-end stroller. It's easy (and, I'll admit, fun!) to push, has an adjustable handle and it navigates sidewalks and store aisles with ease. It has puncture-proof wheels which I initially worried would sacrifice the quality of the ride but I was pleased to discover that the full suspension more than compensated. And I love the easy-to-use foot-operated brake, as well.
The Fold & Storage
This is perhaps the most striking feature of the Grand Tour LX: You can fold it and un-fold it in a flash. When folded, it stands upright for easy storage and quick access when needed. It's compact but sturdy and will fit easily in the trunk of a car or tucked behind the front door at home. It's no umbrella stroller size-wise, to be sure, but it's still easy to pack and store.
The Goodies
Okay, get ready for it. This stroller comes with almost everything you could ever possibly need in a stroller (and some things you may have never dreamed of!). In addition to things like a cup-holder, rain cover, bug cover, baby carrycot, reflective accents and the famous Maclaren lifetime warranty, the Grand Tour LX also has built-in headlights (seriously), with multiple visibility settings (constant, flashing, colored) which mom or dad can control with a remote control (seriously… again).  The remote mounts on the handlebar console which flips open to feature a clock and thermometer.  And if that's not enough, the Grand Tour LX includes an onboard Strollometer® which measures distance by way of an integrated wireless sensor in the wheels.
I know it sounds almost comical but, truth be told, it's both useful and fun to have these features. They all conspire to ensure mom or dad is safe, fit, and never late! Unfortunately, Maclaren hasn't yet figured out a way to ensure that baby helps with the same missions…
Available Accessories
There are plenty of accessories available for the Grand Tour LX, including infant car seat adaptors, a boot which turns the Grand Tour LX into a sleeping bag on wheels, and adorable toy sets for the bumper bar to occupy little riders when you decide to put the Strollometer® to the test!
Maclaren Grand Tour LX in a Nutshell
This stroller is thoroughly impressive. Expensive, yes, but it is a marriage of the ease of a classic umbrella stroller with the style and durability that you would expect in a modern 'glam' stroller. It folds and unfolds in a flash, adjusts to the different needs of every parent and child, and is sleek and stylish. It's an excellent stroller for any age and may just be that one mythical stroller that does it all… and then some!
— Stephanie