Jenna Elfman Says Story Is Ready For Big Brotherhood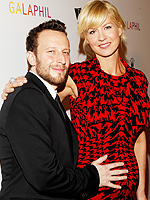 Mathew Imaging/WireImage
Making it past the first trimester marks a number of milestones for an expectant mama and Jenna Elfman is no exception!
Due with her second child in March, the actress tells E! that she was more than ready to move past the uncharted waters that accompanied the first three months . "I was massively tired and had nausea and I didn't have any of that during my first pregnancy," she says.
Already mom to Story Elias, learning to balance motherhood while tending to her own needs — including her career — became quite the learning experience. "I was filming the show with insomnia and nausea and then going home to a two-year-old who's very active," the star of Accidentally on Purpose shares. "It was a bit daunting."
Fortunately for Jenna, the second trimester has been much easier on her body — and brain!
"I'm past the first three months now and I feel like my head is screwed on better."
As for preparing Story for big brotherhood, the 38-year-old and her husband Bodhi aren't worried — according to Jenna, their toddler is already making his parents proud!
"I'm not sure if he gets the whole boy or girl thing exactly, but 'baby' he gets," she reveals.
"He gives my tummy a kiss and gives it a bottle and puts the blankie over my tummy and goes, 'Baby, night-night.'"
Source: E!
— Anya